Glasgow 2014: John Buchanan - winning judo bronze at 38

By Keir Murray
BBC Sport Scotland
Last updated on .From the section Get Inspired - Scotland
It would be disingenuous to claim John Buchanan squeezed into his old judo suit and six months later was doing a back-flip to celebrate winning Commonwealth bronze.
But his is a good story all the same.
Once captain of the British judo team for the Sydney Olympics in 2000, Buchanan retired from competitive action on the mats four years later.
However, the thought of competing at Glasgow 2014 was enough to encourage a return.
"I finished before the 2004 Athens Olympics," the 38-year-old told BBC Scotland, moments after beating South Africa's Daniel Le Grange for the Commonwealth Games bronze medal to continue an astonishing run for Scotland's judokas at the SECC.
"I was reserve for that until two weeks to go and then I stopped.
"Since then, myself and my wife Clare have had three kids: Joe, who is six, Lexi who is five, and Jude, who is two.
"I have a full-time job. I've only been competing seriously for the last six months."
Scotland's judo medals
Gold: Kimberley Renicks (-48kg), Louise Renicks (-52kg), Sarah Clark (-63kg), Sarah Adlington (+78kg), Euan Burton (-100kg), Chris Sherrington (+100kg)
Silver: Stephanie Inglis (-57kg), Matt Purssey (-90kg)
Bronze: Connie Ramsay (-57kg), Sally Conway (-70kg), John Buchanan (-60kg), James Millar (-66kg), Andy Burns (-90kg)
His job is running Sportif Judo with his wife. They have about 400 young members across nine clubs in Scotland, and his business partner Peter Gardiner, who was his coach as a child, has a further seven.
"We're quite a big organisation," said Broxburn's Buchanan minutes after picking up his medal.
"I'm sure the numbers will go up. After the London Olympics we added 100 new kids to our programme across the nine clubs.
"I imagine it will catapult judo into the limelight.
"We have something like 10 Scottish champions in the club. I'm hoping this will inspire more girls to take up judo."
Buchanan was thrilled that about 70 children from his clubs were there to cheer him on at the Games.
Among them was nine-year-old Peter from the Coatbridge Sportif club and his mum, Lauren. They said it was "amazing" to watch their local judo instructor winning a medal.
And Michael, 15, from the same club called Buchanan "brilliant" and "a lovely person".
Now in his seventh year of practice, he trains with Buchanan two nights a week and spends an extra evening at Judo Scotland's National Training Centre in Ratho.
"I won bronze in the Scottish Championships and I'm the British Schools champion. He's a great coach," said the teenager.
Their cheering contributed to a terrific atmosphere for the Scotland judo team at Glasgow 2014, just as Buchanan had anticipated.
John Buchanan's career highlights
2014 Commonwealth Games, -60kg, bronze
2014 Bosnian European Cup, -60kg, bronze
2013 Swedish European Cup, -60kg, bronze
2013 Spanish European Cup, -60kg, bronze
2002 Commonwealth Games
2001 World Championship, bronze.
2000 Olympic Games
"I've fought in competitions all over the world but I have never fought in an atmosphere like that," he said.
"This is one of the reasons why I came out of retirement - a home Games.
"I fought in a home World Championships in Birmingham. I remember the atmosphere was immense but this was 10 times better than that. You know a lot of people personally so it makes a massive difference."
Buchanan described seeing the Scottish Saltire being raised as "the icing on the cake".
He said success was getting in the Scotland team in the first place, given his decade-long absence, and that to get a medal "made it the perfect experience".
He credits the coaches at Ratho - gold-medal winning Euan Burton, David Somerville and Billy Cusack - for helping him and says the support staff have done "a phenomenal job" to keep him in one piece.
The veteran admitted the journey to make it back into the Scotland team was arduous.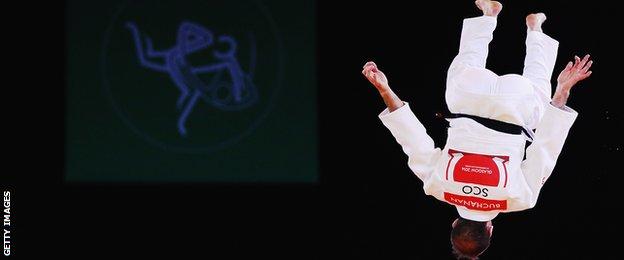 He said: "It wasn't easy. I fought in two tournaments and lost both of them.
"I was sitting in a restaurant with Euan Burton the day before we fought. I said, 'I think I've bitten off more than I can chew, I don't think I'm going to make the team'.
"He said he was feeling the same way. The following day I lost my first fight and he won the tournament.
"I made the team on the very last qualification event."
Buchanan paid tribute to his wife for her part in his return to competition.
"She is very understanding and she puts up with a lot," he said.
"Making the weight, cutting back on your eating and fluid intake, makes me a bit of a diva the week before a tournament.
"You know what it's like with the kids being ill, passing colds to one another. It's quite a stressful environment when you're not eating and drinking so I have to thank my wife for looking out for me.
"She won silver at the Manchester Games so she's house champion still."
With judo not on the programme for the Commonwealth Games in Gold Coast, it will take an Olympic medal in Rio to trump that.
Is the dad of the house up for the challenge?