Karl Hunt: From 'fat wrestler' to international triathlete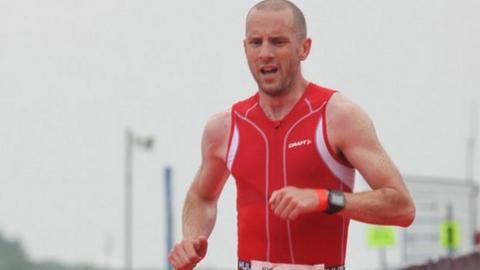 Wrestling is one sport triathlete Karl Hunt does not have to get to grips with.
But less than five years ago, he had a physique that was far more suited to the squared circle.
At 17 stone, barely able to swim, and with a sporting pedigree that involved faking asthma attacks to get out of running at school, representing Great Britain was certainly not on the agenda.
But his then seven-year-old son Joe unwittingly provided the innocent, but hard-hitting motivation that inspired his father.
"Here's Daddy, the fat wrestler," he beamed.
Those words were enough to prompt a change in "Big Daddy's" outlook and lifestyle.
"I thought, 'I don't like that'," said 40-year-old Hunt. "'I don't want my kids to think that'. It was from there that I realised I wanted my kids to have this sporting legacy.
"I joined Weightwatchers and I started running. I didn't enjoy it, but I did it to lose weight.
"My first 10k, I did it in just under 60 minutes. It was a target and I really believe in setting realistic targets that I can achieve. You have to be kind to yourself."
The transformation has been spectacular and less than two years after his first triathlon, Hunt, from Barrowby in Lincolnshire, lined up for his country in the 40-44 age group category at the Sprint team World Triathlon Final in Edmonton, Canada, last week.
The 2014 version of Hunt is very different to his former self.
"When I was young, I didn't really enjoy sport very much at all," he admitted. "I remember at about 14 being picked for the 1500m and I faked an asthma attack halfway around. My brother was a good runner but it never interested me."
The tone was set and, although a keen mountain biker, by the time he reached his mid-30s he was enjoying life a little too much.
A successful career working as a self-employed software developer in investment banking and two years of good living, and good eating, in Hong Kong had his son thinking his dad could be the next Triple H or Hulk Hogan.
But it was not just Joe, now 12, and daughter Phoebe, 10, who spurred Hunt from the cosy lifestyle his work had afforded him.
His second wife Sophie is a keen runner and also played a huge part in him becoming a fitness addict.
"Sophie is five years younger than me and there was a little bit of keeping up with her involved," Hunt confessed. "She was much quicker than me at running, but it was something we did together and it helped me having something to aim for.
"I wanted to get involved in what she did. I joined Grantham Running Club [and later Belvoir Tri Club]. I bought a road bike about the same time as I started the running and I loved it."
He first caught the triathlon bug in November 2012 when a work friend practically forced him into putting his name down for a race in June 2013.
Hunt knew the swimming leg would be nowhere near as straightforward as the others so he sought help from triathlon coach, and GB age grouper, Stefan Lawrence.
A debt of gratitude
"Stefan's coaching is absolutely the reason why I have got as far as I have. There is no way I would have got this far without him. He identifies the tiny details that make all the difference. He even said to me after a swim session a couple of months ago: 'You are dangerously close to looking like a swimmer'. He is an incredibly successful athlete in his own right and has represented Great Britain. If he says jump, I say how high. I am putty in his hands I will not question anything."
"I knew how to swim, but there was no technique. I did 40 metres front crawl and nearly drowned," said Hunt.
"Stefan said 'you really are bad at this aren't you?' But it went from there and within an hour I could swim 100 metres."
His progress in just over 18 months has been incredible.
He is down to 42 minutes for the 10k and set his sights set on the 'golden time' of 40 minutes, having reduced his swimming best for 400m from nearly nine minutes to just over seven, with the aim to "go sub-seven soon and take it from there".
But it is on the bike that he has felt most comfortable and at a qualifying event in Nottingham in May he was "about 50th" out of 90 competitors in the water, but third fastest on two wheels.
"It's the great thing about triathlon that you don't have to be great at all three - and it's the bike that rescues me," said Hunt.
It was that impressive bike leg that meant he could record the sort of time he needed to earn his place as 16th qualifier for the GB team.
And not unsurprisingly it was on the bike where Hunt shone in Canada.
Hunt was fourth quickest on the bike out of 91 - and the quickest Brit. And he backed that up with a 20-second personal best in the swim despite "taking on a load of water" and having to stop after 25m.
His running leg saw him place 31st overall with a time of one hour 11 minutes 51 seconds, less than 10 minutes behind Mexico's 2004 Olympic triathlete Eligio Cervantes Islas, who took the age-group title.
"I finished with nothing left, just an overwhelming feeling of pride," he said.
"That moment will stay with me for life. And I hope that this is the start of a very long and successful GB journey."
Initially, the mere idea of making it to Canada seemed fanciful. Securing one of the 12 automatic places was unrealistic, but he paid £10 to register an 'intent' to compete should he qualify in the one of the rolldown positions offered to the next eight best athletes.
"It turned out to be the best £10 I have ever spent," said Hunt. "I thought if I don't register my intention and unbelievably I qualify, I would be distraught."
However, technology failings meant Hunt did not receive an initial email explaining he had been given one of the rolldown positions, and it was only a final reminder before the deadline closed that saved him.
After the initial shock and "bouncing around" in celebration, a teary phone conversation with his mum followed, but the most memorable moment came when his GB kit arrived.
Honoured and humbled
"It means the absolute world to me. I don't like to make a thing of it but to pull on my GBR tri-suit was a dream come true. It was unbelievable for me. I am not naturally gifted and I have tried and worked really hard so am incredibly proud to represent Great Britain. When I spoke to my mum we were both crying our eyes out."
"To pull on my kit was just unbelievable - truly a dream come true," Hunt said. "I feel honoured and humbled.
"I love the sport so much and would love people to realise that ordinary people can do this too."
However Hunt's triathlon progress has not been without its problems.
"I am quite maniacal and can be a bit OCD about things. If I do something I tend to want to do it well - even if it's the washing up," he explained.
That can be both good and bad. At Nottingham, it meant he knew the course he was racing inside out.
But it also meant he only got three hours of sleep while he went through every pothole around it in his mind the night before.
At least his second son Dan, who is two-and-a-half years old, is unlikely to refer to his daddy as a fat wrestler, even if Hunt senior's obsessive nature meant he would probably end up being quite good at it.