Can the Ryder Cup help revive golf in Scotland?
Last updated on .From the section Get Inspired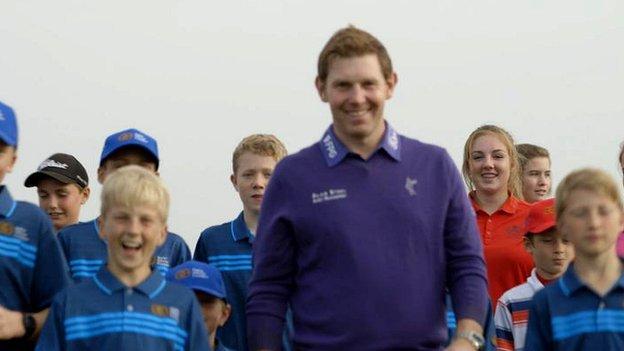 A game for relaxing after a busy day at the office perhaps? A place to network and talk shop while surrounded by beautiful scenery?
However, Scottish golf will need to shed these stereotypical images if it's to deal with a continuing fall in club membership.
But with the Ryder Cup being hosted in Scotland, and a Scot making it onto the European team, could the golfing landscape be changing?
Part of the original bid to host the competition was a commitment to give every child in Scotland the chance to try golf.
Fast forward 10 years, and 350,000 children have taken part in Clubgolf.
And Scotland's very own Ryder Cup team member has been doing his own work to invigorate the game.
For the past three years, the Stephen Gallacher Foundation has been providing free lessons and a schedule of competitions for children as young as four. So far, 3,000 children have benefited from his scheme.
Next week Gallacher will be playing at Gleneagles. It's where the idea for the Ryder Cup first germinated. A game in 1921 between top golfers from Britain and the USA prompted the first Ryder Cup six years later.
The event has only been played in Scotland once since then.
It's been a long journey, but the event has finally returned to the home of golf. It's an opportunity those involved in the Scottish game will not want to miss
Some days, instead of practising his swing, Gallacher has been out on the course at Kingsfield near Linlithgow to see about 140 children playing in their final competition of the season.
"I'm trying to make it where there's no excuse for any kid not to play golf," he says.
"We give equipment, we pick classes up from local schools and bring them here for an hour each week over an eight-week period.
"We are building a nine-hole course at the club, which will be free for under 12s and have a nominal fee for over 12s."
His passion is clear - he wants to see kids "competing and playing with a smile on their faces".
And he's getting to see that on the course.
Ellie, eight, explains why she has been drawn to golf: "It makes me happy. It's good to make new friends and to see what skills you can have in sports."
Ella, six, adds: "I like challenging myself so that I get it in the hole."
And for seven-year-old Noah it's the winning that counts. "The best thing is when I win medals," he says.
Anyone who feels tempted to lose their temper while learning golf should take a few tips from these children.
How do you develop those all important skills?
"You practise, practise, practise," says Ellie.