Emma Pallant: Making the switch and risking it all for triathlon
Last updated on .From the section Get Inspired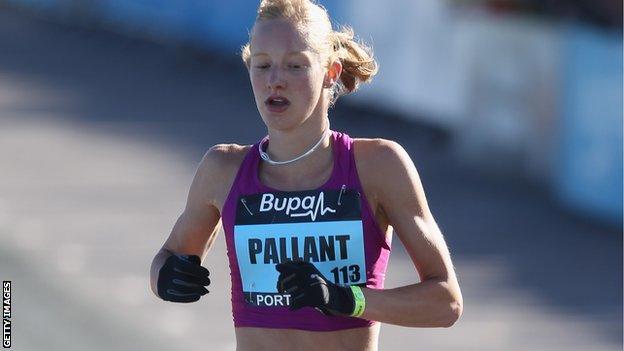 "This may be the end of these two glorious weeks in London. But what we have begun will not stop now. The spirit of these Olympic Games will inspire a generation." - Lord Coe
Two years after those two glorious weeks, Emma Pallant provides unorthodox proof of Lord Coe's lofty predictions for London 2012's legacy.
Rather than being immediately inspiring, a home Olympics acted as the painful catalyst for a Dame Kelly Holmes-mentored hot prospect to quit athletics and opt for a speculative punt at triathlon.
It was a decision forced by injuries and one that could yet see her compete at the Games in Rio and become, in the view of her coach, one of the "world's best".
Two-time Olympic champion Holmes also believes the big time beckons for Pallant. "I do think that she can be better as a triathlete than she could have been as an athlete," Holmes said. "She has the mentality and the tenacity to become an Olympian."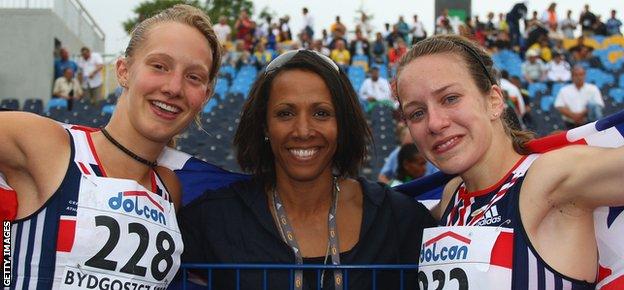 But while all roads could yet lead to Rio, Brazil was not the most logical destination in the summer of 2012. Pallant's athletics trophy cabinet contained junior World and European Championship medals. Her swimming experience? Making up the numbers for Farnham Swimming Club Under-12s.
"I'd geared everything towards the London 2012 Olympic trials and having to pull out of that race was the last straw. I had a lot of success as a runner and loved it but my body just kept letting me down," said Pallant, 25, who somewhat ironically is a trained physio. "I thought it was now or never in terms of making a change."
While her athletics coach Mick Woods was non-plussed, Holmes gave Pallant her blessing - and a first shot at the alien world of swim, bike, run.
"Kelly and I had a big discussion about it," she said. "She had seen me banging my head against a brick wall a little bit with injuries and she was very supportive. She got me a spot in the London Triathlon through her charity and it went from there."
It went well. Two months after the switch, Pallant - who was now being coached by two-time Olympian Michelle Dillon - found herself in the open water of Royal Victoria Dock, but not out of her depth. She finished sixth in the elite race, and was the third Briton home.
"My sister was captain of the swim team at Farnham when we were younger so every now and then she used to rope me into a gala to make up the numbers, but not very often, and it would always be in the breaststroke," she said. "So that first competitive open water swim in London was crazy. I thought it would be hard but not that hard."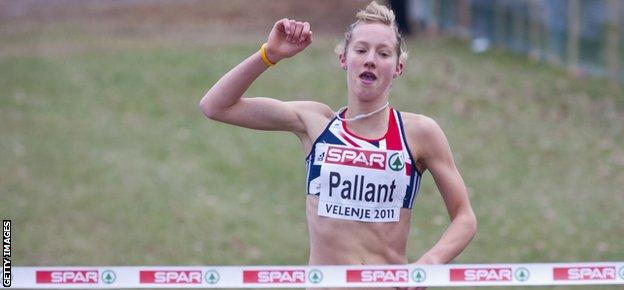 The hardest decision had actually already been made - Pallant deciding she had seen enough of the physio's bench, both as a patient and a member of staff.
Wasn't her triathlon gamble taking more dedication than the athletics career she had on a plate?
"The decision to quit my job, move to London and focus entirely on triathlon was definitely a risk," she admits. "But you have to believe you will be the best. In Michelle I had someone who had been there before and said I could make a living out of this."
Dillon had trodden the same path. A promising athletics career (representing Australia at the 1994 Commonwealth Games in the 10,000m) morphed into a triathlon success story (sixth at the 2004 Olympics). The similarities didn't stop there. Dillon, like Pallant, was at a crossroads.
Emma Pallant factfile
Born: 4 June 1989
Lives: Twickenham
July 2006: Represented GB at the World Youth Championships in Morocco
July 2009: Bronze medal at the 1500m World Junior Championships in Poland
June 2011: Made her senior GB debut
Dec 2012: Won the European U23 Cross Country Championships
Sept 2012: Competed in the London Triathlon, her first-ever triathlon
Dillon said: "Before I received Emma's email introducing herself I wasn't planning on working with elite athletes anymore. But Emma's email excited me because there was so much potential.
"She's more talented than some of the girls who have made it that I have worked with in the past."
Given that Dillon counts Commonwealth champion Jodie Stimpson among her former charges, her assessment of Pallant's prowess carries plenty of clout.
Pallant is on course to proving right both Dillon and Holmes. She didn't lose a single domestic race this season en route to her second British Triathlon Super Series overall victory. Forays internationally, although testing at times, have also delivered.
Despite being ranked at the tail end of the 55-strong field, Pallant finished 27th in the World Series race in Stockholm in August, just two minutes down on the winner, America's Sarah Groff.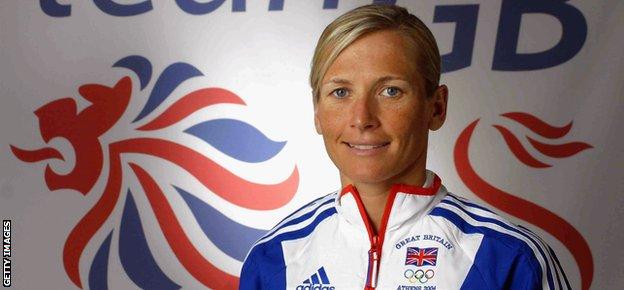 Given British triathlon's strength in depth, qualifying for the Rio Olympics will be dififcult. But, with a winter swimming camp in Australia looming large, Pallant is positive.
"My swim is letting me down at the minute but with the plans that Michelle has in place for this winter I am definitely confident I can be there in Rio," she said.
Dillon agrees: "If Emma had been a little further forward in the swim she could easily have been challenging the top 10 in Stockholm. She has so much potential. She will definitely be one of the world's best."
Holmes knows a little about conquering the world - witness her heroics in Athens 10 years ago - and has seen Pallant mature from a "cheeky" teenager into a potential Olympian. It's been a breathless two-year apprenticeship in a foreign world, but Pallant is unlikely to be weary.
"I don't think 'tiring out' is ever a phrase you would use when talking about Emma, to be honest," said Holmes.