Jack Green: GB hurdler on depression & the American dream
Last updated on .From the section Get Inspired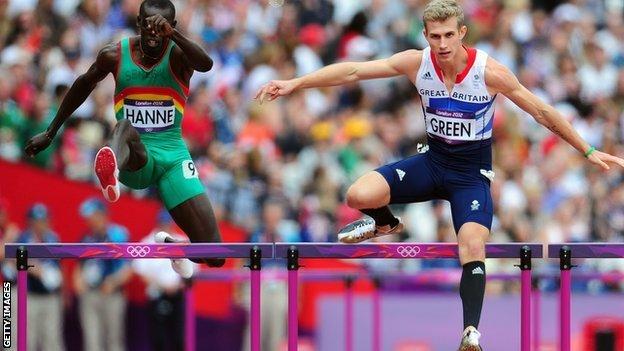 "I am a runner. I have depression. I still believe I can be the best in the world."
Jack Green has never wanted for talent or self-belief. But in the last 18 months, the Great Britain 400m hurdler has discovered his unique sporting prowess is both a gift and a curse.
Green finished less than two-tenths of a second away from an Olympic medal in the 4x400m relay at London 2012.
But he is not a man anxious to cast his mind back. Less than 12 months later, Green was lost in a fog of depression, fighting suicidal thoughts and getting ready to step away from the sport.
"Yeah, it's horrible to look back," he told BBC Sport from America, where he began a new life as a full-time athlete this week. "I knew something was wrong for a very long time, I just wasn't sure what.
"Being a professional sportsman we don't really believe in any weaknesses for a start, yet alone mental weaknesses because it's not the done thing is it? It wasn't a nice time in my life.
"It's an interesting part of my journey and if I ever did need to write an autobiography it'll be a long old chapter."
Sportsmen who have battled depression
Ex-England cricketers
Marcus Trescothick
and
Michael Yardy
Bath and England rugby union player
Duncan Bell
Australian swimming champion
Ian Thorpe,
winner of five Olympic golds
Castleford rugby league player
Brett Seymour
It is a story that Green believes can end with an Olympic gold, but actually began several years earlier when he became European Under-23 champion, aged 19.
The summer of 2011 also featured a senior World Championship semi-final in South Korea, but Green's insatiable appetite for success was already taking its toll.
"I was a 19-year-old and I was 10th in the world," he said. "But I was saying to myself, why am I not top five?
"I used to look at the top of the ladder and go 'right, I'm going to be Olympic champion' and then beat myself up because I wasn't there.
"It definitely had an impact on my illness. I used to beat myself up on a daily basis if I didn't run a certain time in training. There's huge positives to my ambition but it just needs to be managed because it could be self-destructive."
That self-destructive streak did not stop Green earning selection for London 2012, where he very nearly won a relay medal.
Jack Green factfile
Born:
6 October 1991, Maidstone, Kent
Olympic Games:
2012 - 4x400m relay fourth place, 400m hurdles semi-finalist
World Championships:
2013 - 400m hurdles semi-finalist
Other:
European Under-23 Championships - 400m hurdles gold
World Junior Championships - 4x400m relay bronze
However the "greatest show on Earth" did not provide the panacea Green required. In the summer of 2013, after failing to finish two high-profile races simply because he felt he did not want to be there, Green broke down in former coach Malcolm Arnold's office and sought help.
"For a long time I didn't know what was wrong. I started changing what training I was doing and changed where I lived, changed my nutrition," he said.
"I thought 'well there is something wrong, and I'll find it if I change each little bit'. The one thing I didn't change, or didn't even think about, was whether I had a serious problem."
In December 2013 Green, by now taking an extended break from the sport, gave an interview in which he said: "I'm not sure I ever enjoyed running. I know I enjoyed winning, being a winner."
Four months later, after waking up one day and deciding "I want to run", he was back training at his childhood track. Last week, more than eight months since he stopped taking medication, he began a new life in the United States, training in a group that includes 2008 Olympic 400m champion LaShawn Merritt.
What has changed?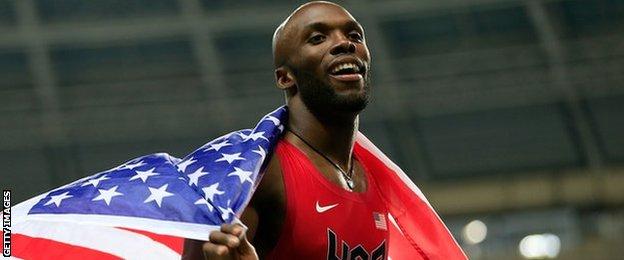 "Before my break, athletics was the given path in many ways," he explained, speaking to mark Friday's World Mental Health Day.
"Obviously I was making my own decisions but it was a case of 'oh, I've achieved this and I have done that so I have to go down this particular route'.
"I am a runner, I couldn't change that. It's what I do.
"Now I have had a year without running I know I want to be here - it's what I have chosen."
Green has certainly chosen well. In Merritt, the 23-year-old can chase the reigning world champion round the Florida track he will also share with American sprinter and long jumper Tianna Bartoletta, a gold medallist in the 4x100m relay at London 2012.
Watching from the sidelines will be new coach Loren Seagrave, who counts two-time Olympic 400m hurdles champion Angelo Taylor among his former charges.
However, Green was not blinded by star quality. It was safeguarding his mental health that eventually led him to make the decision to head to the States.
"When I was thinking of coming out here, I said to Loren 'if this game was just physical this is where I would achieve everything I wanted to - but it's not just on a physical level any more'.
"He introduced me to a psychiatrist who just happened to be British.
"Sometimes things kind of happen for a reason. One of the few other British people here was the one guy I needed to sell it to me. As soon as I met him I said 'I'm coming'."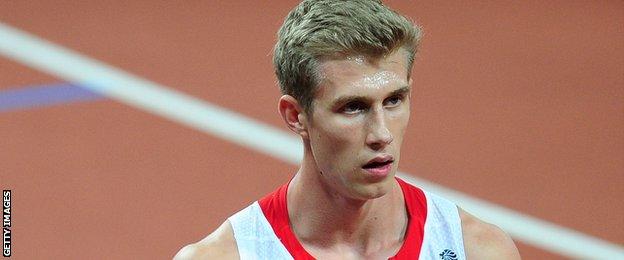 Green's mind was made up but this time his body threatened not to play ball. While on that American recce in April, he found out he had a fractured back.
Fit-again, Green celebrated his 23rd birthday on Monday with a double training session - a far cry from his spell in athletics exile a year previously.
With his funding withdrawn because of his time away from the sport, Green's American dream is entirely paid for out of his own pocket, but he could not care less.
"I have depression, it's part of my make-up and I will have depression for the rest of my life," he said. "They say, you have mental health problems, exercise can help. But then when you turn your exercise into a job it's a whole different story.
"I have got great people around me now. I am the happiest I have ever been and I haven't even run in a year. I still believe I can be the best in the world.
"Obviously, being successful is something I really want in my life but it doesn't define me like it used to. Before I had to win to supposedly be happy, but that wasn't proper happiness anyway."