Simon Wheatcroft: Blind runner to go from Boston to New York
Last updated on .From the section Get Inspired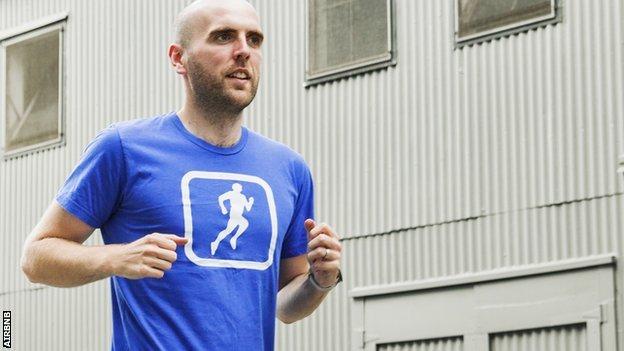 Simon Wheatcroft is about to run from Boston to New York.
It is about the equivalent of running from his Doncaster home to Edinburgh. And then doing a marathon.
Impressive by anyone's standards, but even more so when you consider that Wheatcroft has been registered as blind since the age of 18.
"Up until I was 13 or 14 I just thought that what I could see was what everyone can see," he told BBC Sport. "By the time I was tested I was blind.
"It was quite gradual but at 26 I just lost everything, the deterioration was rapid at that stage."
Wheatcroft, who suffers from the genetic condition retinitis pigmentosa, never intended to get into running.
In spite of his condition he decided the best place to propose to his then girlfriend would be at the top of a mountain in California.
Retinitis Pigmentosa
Retinitis pigmentosa is the name given to a group of inherited conditions of the retina that all lead to a gradual progressive reduction in vision. Difficulties with night vision and peripheral vision are the first things that are noticed. Later, reading vision, colour vision, and central vision are affected.
The age at which symptoms start is variable and the rate of deterioration often varies - for example with the different genetic types - but is generally very slow with changes occurring over years rather than months. In approximately half of all cases there are other family members with RP.
Source:
Retinitis Pigmentosa - Fighting Blindness
The only problem, as far as he was concerned, was that he did not know how to climb a mountain.
"I thought it would be pretty easy but it turned out it wasn't so I quit that," he said.
"The thought of having to quit because I was blind really bothered me.
"I was really poor at the time because I was a student so I thought I'd take up the cheapest sport I could, which was running. Turns out running isn't actually that cheap."
Wheatcroft, studying for a degree in psychology at the University of Sheffield at the time, took to running around a local football pitch near his Doncaster home but quite quickly grew bored of it.
He decided to take his running out on to the paths and after a few months had mastered a route.
Wheatcroft memorised a course to work out where the path would camber, and with the help of the voice prompts on his phone's Runkeeper app, he could decipher where there was a turn.
Most rookie runners keen to test themselves in a race situation will probably try out a five or 10km course.
After just six months of running he had other, slightly grander, ideas - a 100-mile ultra-marathon to be exact.
"I thought to myself 'can I run a marathon?'And I thought I probably could, so what's the point? Why challenge yourself to do something you know you can achieve? So I thought I would push it and try an ultra," he said.
"The first race was absolutely brutal. I'd only been training for six months and at the time I was doing most of my training at an airport that was as flat as a pancake. But this race was in the Cotswolds and that is not as a flat as a pancake.
"The race was 100 miles long and to be honest I underestimated it. The hills made it intensely difficult. I ended up dropping out at 83 miles.
"I still swear that if the course had been flat I'd have finished it."
The next generation
Wheatcroft is hopeful of being joined on the final leg of his run to New York by his two sons, four-year-old Grayson and one-year-old Franklin.
Having started off with a 100-mile race it is probably little surprise that Wheatcroft has now graduated to an even more daunting task.
On Wednesday he sets off from Boston, the home of the app that he says makes his running possible.
"Without technology there's no way I could do these things," he said
"I got an entry to the New York marathon so I thought, why not go there from Boston. Boston is the home of Runkeeper and New York is a city that is close to my heart as I had my honeymoon there.
"I want to be able to engage with the community, that is a big thing for me and I wanted to make a run that was accessible so that people could come and join me for stretches of it.
"The exact mileage might shift around and it could be increased depending on where people come to meet me.
"It'll be an average of about 25 miles a day but I'm not too worried about that."
Unsurprisingly given the fact he will have run about 240 miles prior to the race in New York on 2 November, Wheatcroft is not concerned about the time he is likely to get in his first ever marathon.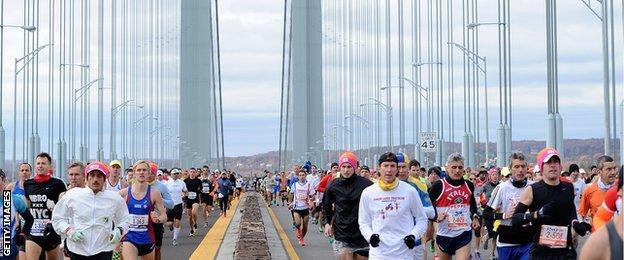 The affable 32-year-old is more interested in the social aspect of the event.
"I'm really looking forward to it. I want to engage with people along the route as much as I can.
"Time is irrelevant to me. You always have more fun at the back where people are talking and you can stop and get sweets from people and things. I want to be able to talk to people and enjoy it."
Wheatcroft is hopeful that other blind and partially sighted people will be inspired to take up running as a result of his adventures.
He is involved in a group that aims to help potential guide runners connect with aspiring visually impaired runners.
"I want people to believe that these things are possible and I think more people are thinking that now. The response we have had has been incredibly high."
The New York marathon could be the start of a new chapter in Wheatcroft's running life and he will be taking on the London Marathon in April.
So what about running from Doncaster to London first?
"I hadn't thought of that but it might be a good idea actually."
Wheatcroft will be staying in accommodation provided by Airbnb hosts for the duration of his time in America.