BBC Sport - Get Inspired: The karate athletes looking ahead to the European Games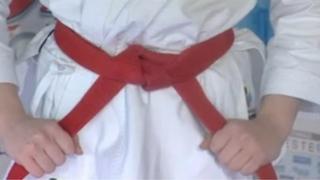 The karate athletes looking ahead to the European Games
With Karate narrowly missing out on inclusion in London 2012, athletes from around the country have had to focus on their next big opportunity to shine.
Preparations for the 2015 European Games are well underway with karate champions from all corners of Great Britain hoping to make it to Baku, Azerbaijan for next summer's games.
"You've got two minutes to prove to yourself that all your training can be put into practice" says Kate Karwacinski, who trains with her friend and teammate Aimee Sell in "Aimee's Dojo" - a workout space in her back garden equipped with all their training needs.
If you would like to find out more about how to get into karate or any martial art, take a look at our dedicated guide.