Sport for the social media and smart phone generation

Last updated on .From the section Get Inspired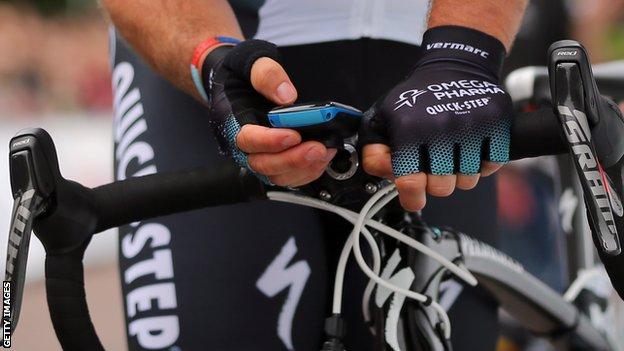 We have all heard the philosophical head-scratcher about whether a tree falling over in the forest makes a sound if there is no-one to hear it.
Keen cyclists will be aware of a new variant to the famous question: does a bike ride take place if you do not "Strava it"?
For those addicted to the GPS-based ride-and-run tracker, the answer is a resounding "no".
If you forget to hit record on your bike computer, smart phone or sports watch, those calories you burned, the effort you expended, the sweat you perspired… it never happened.
In the same way some people cannot watch TV without simultaneously "sharing" their insights via social media, the compulsion to log every pedal stroke on a social network is an extreme example of what sociologists call the "quantified self" movement.
The idea is to use technology - activity trackers, heart-rate monitors, sleep sensors and other devices that are synched to a computer or smart phone app - to collect data that will improve your wellbeing.
Apps for playing and coaching
The Football Association's
Coach's App
helps coaches plan and share pro-level practice sessions
Designed by the Lawn Tennis Association,
PlayerPlanner
is aimed at players and coaches
MySwimFit
is an online coaching tool from British Swimming
That is certainly the motivation behind a report commissioned by the Sport and Recreation Alliance (SRA). Titled "Future Trends: Innovating to Grow Participation in Sport", it was written by John Warriner, an analyst at consumer insight firm, the Future Foundation.
Where some see a losing battle with youngsters more interested in computer-generated play than real play, Warriner outlines a world where the technology in our pockets, on our wrists or embedded in our clothing could actually keep us active.
"With so many entertainments and technologies demanding the attention of young people, the relevance of play will be challenged if advocates fail to adapt," Warriner writes.
"But, harnessed appropriately, there is potential for new technologies not merely to disrupt but to enthuse, inspire and impart fundamental, unchanging sporting values to those currently most at risk of missing out."
That sounds a lot like what two rowing buddies from Harvard University wanted to do in the mid-90s.
Michael Horvath and Mark Gainey had an idea to recreate the competitive environment of the college rowing scene for amateur athletes who had to fit exercise around careers and families: a digital locker room for the weekend warrior.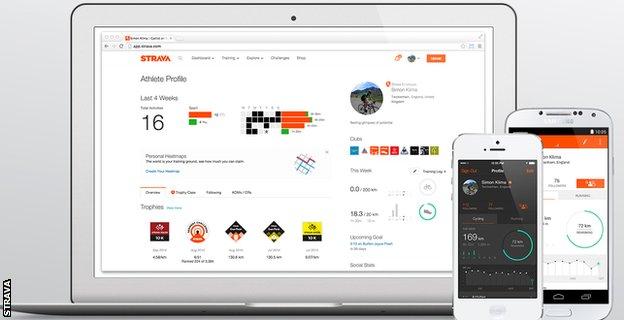 Unfortunately, global-positioning satellites required military-sized budgets back then and this online community would have depended on strangers emailing routes and times to each other, then plotting them on spreadsheets.
So they shelved it until 2009, by which time they had already launched an entirely different technology start-up, and a GPS device had become something you could tuck into the back of a cycling jersey without needing to sell your car first. Strava's time had come.
The San Francisco-based firm describes itself as "a community of athletes… alone or together, we strive". Strava is Swedish for "strive" and Horvath was born in Sweden.
"Strava lets you experience what we call social fitness - connecting and competing via mobile and online apps," its website continues. "No matter the weather, day after day, we prove ourselves."
That competitive element - the "proving ourselves" - is the secret to its success. Unlike other route-tracking apps like MapMyRide or My Tracks, or activity monitors like Nike's FuelBand, you are not just recording what you have done; you are benchmarking it.
As one of the poor souls who has been enslaved by the orange logo on my phone, I often could not tell you how far I have ridden, or for how long; but I will know which climbs I did, where I stand in the rankings and how far off the top 10 I am.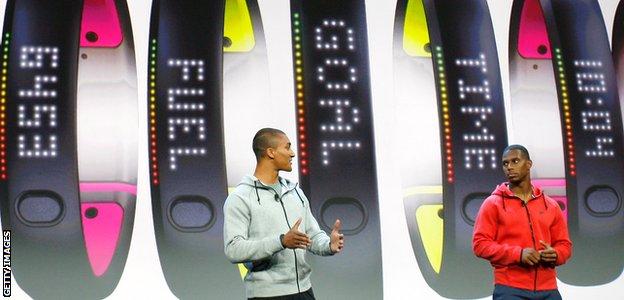 Strava does not reveal just how big it is - it remains a private company - but its international marketing director, Gareth Nettleton, says it has "millions" of users around the world, almost a third of whom are runners, with 100,000 joining every week.
Among those are a surprising number of professional riders, as dozens of British and Irish amateurs who lost King or Queen of the Mountain status up their favourite hills this year can attest.
The Women's Tour, Giro d'Italia, Tour de France and Tour of Britain might have made for some memorable moments for cycling's burgeoning fan base, but they left behind a series of times most people can only get close to in a car.
"We always wanted to create something good enough that the pros might want to use it," explains Nettleton.
"But it is has even surprised us to see how many of them have taken to it. Not that we're complaining.
"I think many of them see it as a way to build their personal brands, and to show how transparent they are."
Warriner puts Strava in a different category to the prime focus of his SRA report, "life-tracking" devices for the more mainstream user. Strava, he says, is targeted at "serious" amateurs, a point Nettleton acknowledges.
But Warriner believes Strava is well placed to take advantage of a number of trends.
"I'm noticing more platforms that allow users to face off against professionals," he says.
"Having the data can cut through a lot of the mythologising that goes on in the media about elite performers. It's a kind of mass empowerment.
"Strava is also set to capitalise as people migrate away from big platforms like Facebook, and start to divide their time between smaller, more intimate social platforms that cater for a specific interest."
Furthermore, Strava is generating an awful lot of data about where people ride and run, so much so that it is now selling it, anonymised, to help urban planners design cycle paths, pavements and roads more intelligently. Brisbane, Glasgow and London are just some of the cities that have taken this information on board.
But it is not just tech-savvy cyclists who are using laptops, smart phones and tablets to defuse what SRA chairman Andy Reed has described as a "physical inactivity time-bomb".

The national governing bodies of sports as diverse as football, swimming and tennis have all developed apps to encourage us to put down those devices for an hour or so to do some exercise. Battle Badminton is a great example.
Part of Badminton England's wider strategy to raise the number of regular players, Battle Badminton is what happens when a dating site meets Assassin's Creed, with added shuttlecocks.
"When we asked people what they wanted, but was missing, they said it was the opportunity to find players of a similar standard," explained development manager Andy Dyke.
"It is very similar to what happened 20 years ago with bits of paper on club notice boards at leisure centres and it is definitely for the more competitive player, perhaps somebody who would rather lose 21-19 than win 21-0."
In less than a year, and without any real push, Battle Badminton is already used by 4,000 players.
This comes as no surprise to Warriner, who sees Battle Badminton, Strava and sports bras with embedded heart-rate monitors as all part of the solution to our fears of an increasingly desk-to-sofa existence.
So perhaps the message to take from this is who needs green spaces when a Wii or Xbox can take you down famous trails in your living room and your social networks provide the motivation of a Sir Alex Ferguson.
Listen to BBC 5 live's 'Bespoke' programme on Thursday, 11 December, for more tips and advice on what technology you can use when you are cycling.