Get Inspired: Too sick to exercise
Last updated on .From the section Get Inspired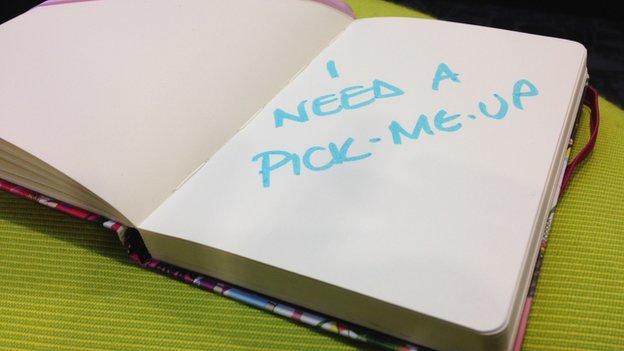 The road to achieving personal goals is not always smooth, as Tracy Barwell is finding out.
When we last met Tracy she had started 2015 full of energy and motivated to make some healthy lifestyle changes. And then she got sick.
Catch up on Tracy's progress, hear some advice from a professional and share your own experiences.
"It's been a frustrating start to my getting fit routine.
For the first two weeks of the year everything was going well, I had been getting to the gym three times a week, I had worked out an eating plan and was sticking to it and then I was struck down with a virus.
Everything ached, I didn't want to do anything and for the last four weeks I have been suffering with acute sinusitis with extreme toothache (not just in one tooth but all of them at different times).
Therefore I am afraid to report that there has been no gym and the eating plan went out the window. Plus the cold weather just added to the unhappiness - I just wanted comfort food and warmth.
I know that there is going to be ups and downs on this journey but to have one at the beginning is just so frustrating. I feel like have failed.
I finally think I am over the worst so I WILL get back to the gym and will cut out the chocolates and get back on the plan.
I look at my daughter and she is all the inspiration I need."
"Tracy, don't panic!" says GP
Dr Juliet McGrattan is a GP in Lancaster. She's a busy mum of three, a marathon runner, blogger and health writer.
We asked Dr McGrattan to offer some advice to Tracy, and anyone else who might be feeling the strain of winter.
"This is incredibly frustrating for you but it's normal and it's life.
What matters is how you deal with it and making sure you get back on track.
Starting an exercise routine is hard but it's even tougher to get back into the swing of it for a second time. This is when a lot of people give up; good for you for staying motivated.

These things happen from time to time, it's not your fault and you mustn't beat yourself up about it.
You did the right thing resting, it sounds like you've had a pretty nasty bug. With a mild head cold you're probably OK to keep going but sinusitis is different and a dose that makes your teeth and body hurt needs rest.
What you have to be careful of is doing too much too soon. Jumping straight back in where you left off is tempting but not the right thing to do. You might feel well enough to go to the gym but you aren't fully recovered and you risk getting ill again.
Take the first few sessions really slowly and listen carefully to how your body feels. A gentle walk and a stretch for a couple of visits will get your routine back without pushing you too hard.
Once you're back to your plan and making great progress you'll soon forget about your shaky start. You can learn from this so next time you get unwell you'll know that all is not lost and it won't make you feel so bad.
Hang in there, it will be worth it I promise."
Dr McGrattan's Top Tips
1.
Do not beat yourself up about getting sick- it happens to us all. It's how you bounce back that is the most important.
2.
When you're recovering from an illness, don't do too much too soon!
3.
Listen to your body and start with gentle exercise to get back into the swing of it.
Got some advice or words of wisdom for Tracy? If you have been, or are going through a similar journey let us know. Send us an email, or you can get in touch on Twitter or Facebook.