Gemma Steel's tips & tricks to cross-country success

By Nick Hope
BBC Olympic sports reporter
Last updated on .From the section Get Inspired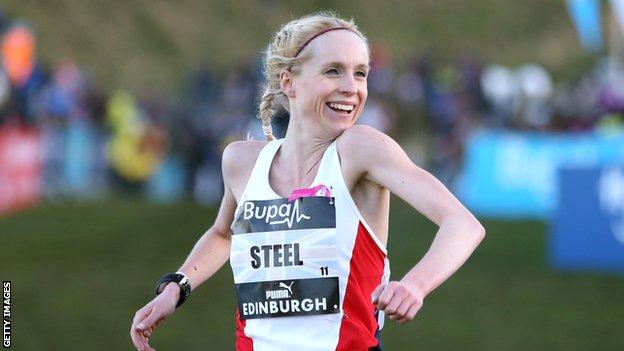 IAAF World Cross Country Championships
Venue:
Guiyang, China
Date:
28 March, 2015
Coverage:
Live 3:50-7:25am on BBC Red Button and sport website; 16:00-17:05 BBC Two highlights; with reports on the BBC Sport website.
Traditionally, thoughts about cross-country will evoke memories of enforced cold, wet and muddy missions across school fields during teenage years.
Even Britain's Gemma Steel, who was introduced to the sport at the age of 11, admits her feelings towards it were once closer to loathing than love.
"When I first tried it, I said never again," Steel told BBC Sport. "I didn't enjoy it."
However, having stuck with the event and become European champion last year, she is passionate about the physical and mental benefits of cross-country running.
As she prepares for this weekend's World Championships in China, Steel shares some of her tips on how to reach the top of the sport.
Cross country is a 'pure' sport
Although not an instant fan of cross-country, Steel persevered after physical education teachers at her school in Leicestershire noticed her talent.
"It's the rawest, purest form of sport you can get," Steel told BBC Sport. "You just need a pair of shoes or running spikes.
Competitive cross-country distances

Men

Women

10km for juniors

6km for juniors

12km for seniors

8km for seniors
"Rather than relying on something else in sport like technology or equipment, it's your legs that do the talking and I love the simplicity.
"I think it's great for character building - you need to overcome obstacles, show grit and determination, so it teaches you a lot of life skills.
"Obviously it's fantastic for fitness as well, but it also teaches you about running within a team as well as excelling individually and it's made me the person I am today."
Age is no barrier
Although Olympic medal winners like Rebecca Adlington (swimming) and Zac Purchase (rowing) retired from competitive sport in their 20s, European 10,000m champion Jo Pavey has proved that in distance events people can excel into their 40s.
"People shouldn't think just because they aren't in their teens or 20s that they can't go out and enjoy it," said Steel, who will turn 30 later this year.
"I am only just reaching what I'm capable of doing and I think there's a lot more to come. People like Jo inspire me to carry on and, who knows, I could be at my best when I'm 40 too.
"I never was a track runner, so hopefully I can show you don't have to follow the traditional route."
Juggling work and training improves multi-tasking
With cross-country a non-Olympic sport, most elite competitors have to divide their time between training and full-time employment, and Steel has previously worked as a waitress and in a paint factory.
She is now funded, however, with UK Sport investing in her last year after British Athletics coaches identified Steel as a potential talent over Olympic 10km and marathon distances.
"I was pressing paints into pots after school to earn a little money," reflects Steel. "It was dark in the building at times and I think that motivated me to go running.
"I used to struggle organising my time and I'd had my twin sister to rely on in the past while I was at school.
"When that finished, though, having work and training helped as it gave me structure and a sense of discipline."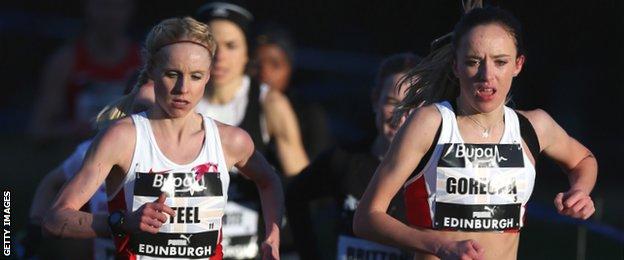 How to prepare for cross-country
Whether taking part recreationally or competitively it is important to give yourself the best chance of maximising the effort you are making.
"The night before I try and eat as many carbohydrates as I can [for energy the next day] and I eat less protein than usual," said Steel.
"I'm not superstitious and don't have pre-race routines, I just don't tend to eat much on the morning of the race. I try to de-clutter my mind and focus and just head to the event.
"I think watching any inspiring races you've done in the past to remind yourself how good you are, and the reason why you're on the start line, can really help.
"I feel it reinforces the incentive to go out and do well really."
How to compete in cross-country
Once you have made the decision to take part in a cross-country race you will want to test out what tactics will deliver your best performance.
"My mentality is to run a hard race, but make sure I don't go off too fast at the start," Steel said
"You need to keep a solid pace and then build towards the end, which is something I'm getting better at and becoming cleverer with during my running.
"The key though is not to expect too much too soon because success doesn't happen overnight and it's taken me a few years to get to where I am."