Get Inspired: Samsum's 'Fighting Chance' pushing him to Rio
Last updated on .From the section Get Inspired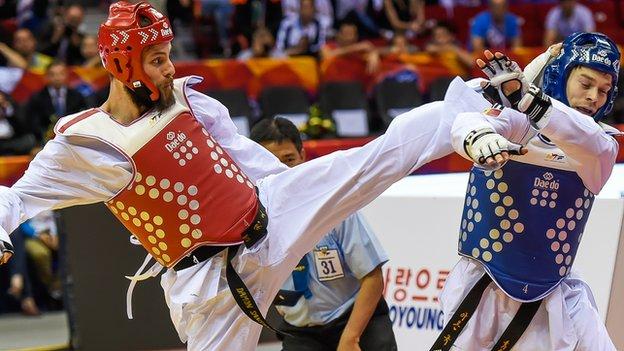 This month's fight of the century between Manny Pacquiao and Floyd Mayweather might already be a fading memory, but GB taekwondo player Damon Sansum has got a 'super-fight' of his own lined up - next year's Olympic -80kg final in Rio.
The ingredients are certainly there: a complicated, divisive and highly-political background, plus a war of words between two contenders who were once training partners but are now sporting enemies.
It even has the promise of an expansive, exciting contest - something Pacquiao and Mayweather were unable to deliver.
Former GB star Aaron Cook - who is now competing for Moldova having switched nationalities following his controversial omission from the London 2012 team - is the opponent in Sansum's sights.
The pair have locked horns in the last two major taekwondo championships.
Cook beat Sansum to European gold in 2014 with a sudden-death golden point, before the tables were turned at this week's World Championships in Russia, as Sansum defeated his old rival to take silver.
Ahead of that fight, Sansum claimed Cook had taken the easy option to switch nationality ahead of the Rio Games.
It has all served to add spice to the rivalry, and Sansum is desperate for a Rio rematch.
"Imagine that: Moldova versus Great Britain in the Olympic final and all the background that goes with that. I would love it," said Sansum, who has won three of his five professional fights against Cook.
"I think the rivalry is good; it's a bit of hype and is like the Pacquaio-Mayweather fight when people were anti one person for a certain reason or against the other for a different reason.
"If we could fight in the Olympic final I know that would be an exciting fight."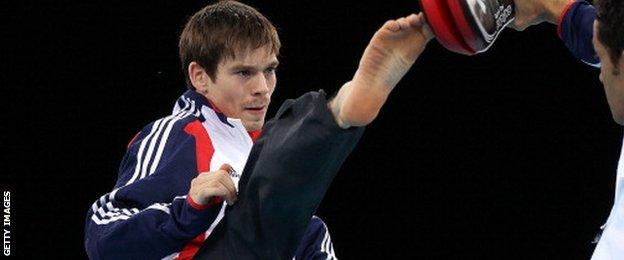 He added: "Everyone was buzzing for mine and Aaron's fight at the World Championships - it hyped up the event. People were saying it's more than just the fight, there's more to it with all the politics and stuff.
"I like it and Aaron does too."
His excitement for what lies ahead is all a far cry from his mood four years ago, when the Scot found himself sitting on a Croatian curb in tears thinking his life "was over".
Why? Because of a switch of sports that overnight turned him from a world champion into a novice.
Sansum was part of the first intake of UK Sport's Fighting Chance initiative, designed to help people move from other martial arts into taekwondo - and had not made a promising start.
"I remember sitting outside the venue in Zagreb having lost in the first round of the Croatian Open and I was in tears," Sansum said.
Famous GB Olympic converts
Rebecca Romero:
Olympic medallist in both rowing and cycling
Sarah Storey:
Eleven-time Paralympic gold medallist in swimming and cycling
Lawrence Okoye:
London 2012 Olympian in the discus is now an American footballer
"I was thinking 'my life is over, what are you doing this sport for? You've just got beaten by someone who is not even a black belt. You need to go back to what you know and stop doing this, you're embarrassing yourself'.
"It was quite daunting switching sports and going into the unknown and I suppose it's the same as someone taking up a sport for the first time in general.
"My thinking was that I just needed to be humble, take all the advice on board that I could and just not be too hard on myself.
"It's taken a while. I knew I could be the best and that I trained harder than 99% of people. I knew my time would come.
"Sitting on that curb, I might have gone to the performance director and said this is not for me and I would have never known how much I could have achieved in this sport."
The 28-year-old was not the only GB player on the podium in Russia this week with a sporting switch to their name - Rachelle Booth, the bronze medallist in the women's -62kg category, also came through Fighting Chance.
At London 2012, Helen Glover, a graduate of a similar UK Sport initiative Sporting Giants, won Olympic rowing gold having only taken up the sport four years earlier.
And Sansum's sport switching might not be done just yet.
Becoming the first male athlete from a UK Sport initiative to top the Olympic podium is top of his to-do list for now, but could yet another sporting reincarnation follow?
"Boxing is a sport I would like to do," he admits. "I have trained with some decent boxing coaches and they have said that I punch well and have some good power. I'd like to do it.
"I think it could work. It would be nice. Some of the boxers, like Carl Froch and some of the other guys, are in their mid-30s, so it is an older sport. I'd love to do it."