Women's FA Cup: Katie Chapman's road to Wembley

By Katie Chapman
Chelsea Ladies captain
Last updated on .From the section Get Inspired
SSE Women's FA Cup final - Chelsea v Notts County
Venue:
Wembley Stadium.
Kick-off:
Saturday, 1 August - 15:00 BST
Coverage:
BBC One, BBC 5 live, BBC Radio Nottingham, BBC London 94.9 and live text commentary on BBC Sport website
I was 11 when I started getting into football at my primary school, St James' in Bermondsey, where there was never any pressure to play more girl-orientated sports like netball.
When I started playing, we had coaches from Millwall Lionesses come down to watch us and I was asked to join them. I must have had some kind of natural talent!
My aim was to always play for England and one of the first games I went to watch was an England Women's game against Germany when I was about 12. Looking back, it was going to that game that inspired me to make it in sport.
When you're a young girl and you go to watch England play, you just want to emulate those players and represent your country. A few years later I ended up in the same team as some of them, so that was very surreal.
To wear an England shirt for the first time was an unbelievable moment and my family are still as excited about it now as they were all those years ago. It's a fantastic feeling.
Growth of the game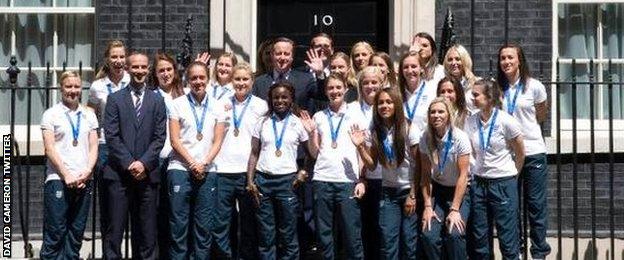 Having been involved in women's football for so long, I've seen it grow over the years and it is massive now.
Our domestic league, the Women's Super League, is now professional and that has made a huge difference.
I think that showed in our performance at the World Cup where we came third and won the bronze medal by beating Germany for the first time ever.
More than 2.3m people watched it on TV back home, but you're in a bubble during a tournament and it wasn't until we got back to this country that we realised what an impact our World Cup campaign has had.
It was amazing to meet the Duke of Cambridge at Kensington Palace last week and then the Prime Minister at Downing Street.
To do all that in one day was like a dream and it hit home that what we've done is big for female sport in England. Hopefully, it will inspire a new generation of girls to follow in our footsteps.
Motherhood and football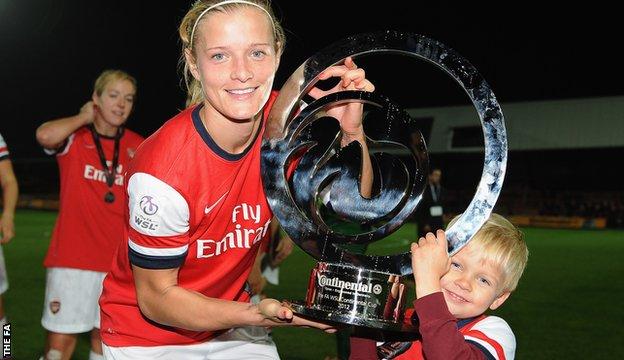 I'm from a big family, one of six kids, so it was an easy decision for me to have a break from the game and start a family and I now have three boys.
I was 20 when I had my first son and it didn't really dawn on me that it would be a tough road to get back to full fitness and perform at a high level.
I was lucky that I was able to train during pregnancy each time without any complications and I was able to get myself back playing after my six-week check-up.
I trained up until two weeks before I was due and that was a massive help to me in getting back again. Obviously there was no contact, it was more just passing, fitness and bike work, but I just wanted to keep myself involved with the team.
It used to be difficult juggling parental duties with being a footballer because we used to train at night, but now we've gone professional at Chelsea things are a lot easier.
I drop the children off at school like any other parent and make my way into work. I train during the day, come home to pick the children up and when I'm at home at night then that time is for the kids - making dinner, taking them to football, doing homework and stuff like that.
When I'm at football, I'm a footballer and when I'm at home I'm a mum. It's just like having an everyday job, it's great. You've got to be disciplined to separate the two, but I think being a mum has helped in my captain's role at Chelsea in that you look out for the younger ones in the dressing room and try and be a role model to them.
Harvey a World Cup inspiration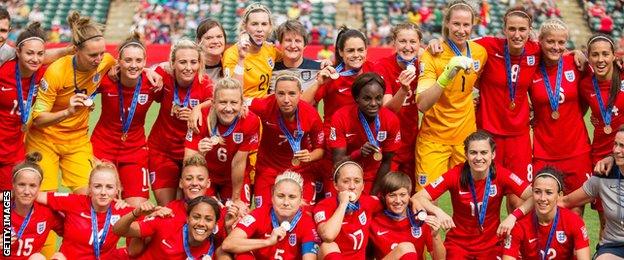 My husband is very hands-on at home and I'm really lucky to have him. He's brilliant - and I think he proved that during the World Cup, when he was on his own for six weeks, looking after the children and working himself.
The whole family came over to Canada to support me during the World Cup and that was a lovely surprise. We never even spoke about them coming out, but I came down to the bar area in our hotel in Moncton and they were sitting there waiting for me. It was overwhelming.
All the other players and most of the staff knew about it. They did really well at keeping it a secret and I just stood there and cried, but it was brilliant having them out there.
My children couldn't be more proud to see me representing England but it is very difficult when I have to leave them.
I once had a conversation with my eldest son, Harvey, who is 12, and he said 'I want to see you play for England, I want to see you play in a World Cup'. That was the moment when I realised I wasn't just doing it for me - I was doing it for them as well.
Making history at Wembley
We've got the Women's FA Cup Final between Chelsea and Notts County at Wembley on Saturday and it's another big moment for women's football coming off the back of the World Cup.
It's important that we continue pushing the game and the FA's We Can Play campaign can help get more girls playing regularly.
For our FA Cup final to be played at Wembley for the first time is absolutely massive. It would be nice to get a good crowd there to help progress the game even further and speaking as the Chelsea captain, we're not just going there for the occasion - we are going there to win.
It's brilliant the Lionesses have become role models for aspiring girl footballers, so if your children love the game then help them get involved in it and let them dream a little. Those dreams can come true. With hard work and talent, anything is possible.
The way the game is going now, and with there are more opportunities than ever before and although I'm going to continue playing for a bit longer, I'm quite sad that I'm coming to the end of my career.
Footballer Katie Chapman, 33, has made 91 appearances for England Women and won a bronze medal at the recent Women's World Cup in Canada. She will captain Chelsea Ladies against Notts County in the first Women's FA Cup Final to be played at Wembley Stadium on Saturday.
SSE Women's FA Cup final - Chelsea v Notts County
Venue:
Wembley Stadium.
Kick-off:
Saturday, 1 August - 15:00 BST
Coverage:
BBC One, BBC 5 live, BBC Radio Nottingham, BBC London 94.9 and live text commentary on BBC Sport website