BBC Sport - Get Inspired: Remi's swimming challenge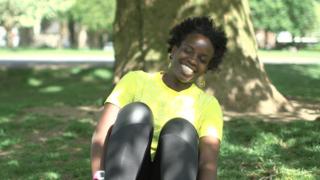 Remi's swimming challenge
When Remi was younger she almost drowned in the ocean. Since then she's had nightmares and developed a phobia of the water. Added to this Remi is a young mother who has been dealing with depression.
She hadn't been in the water for a long time but she started to see benefits with her depression when she took up running. Then she discovered the Swim Dem Crew Challenge and decided it was time to face her fears.
As a mother and a role model to her young daughter she is also keen to dispel the myth that black people can't swim.
Remi's journey was not so much about swimming a mile, but about finding the courage to take the plunge and confront some of her deepest demons.
Can Remi to find comfort in the water and pass on that life skill to her daughter?
Use this guide to find a way to get yourself in the pool and into swimming.