BBC Sport - Meet Adam Peaty - breaststroke champion & world record holder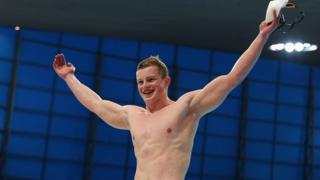 From fear of water to Olympic champion
Adam Peaty scared of water?
The world breaststroke champion and world record holder tells Get Inspired how, as a small child, he would try and climb out of the bath his fear of the water was so bad.
But it all turned round when he went to his first swimming lesson.
"I started my first swimming lesson and absolutely loved it," he says. "My swimming teacher made it into a fun kind of thing and it was through that I learned to love it."
If you want to have a go at swimming why not have a look at our swimming guide?