Paralympic gold medals, world championship golds and a world record holder. It becomes apparent very quickly that Michael McKillop is someone who has never let a disability affect his ambition to become a world-class middle distance runner.
Michael was diagnosed with cerebral palsy not long before his second birthday, and when most children are learning how to walk and run, Michael was forced with overcoming much greater obstacles. Such a diagnosis could be enough to stop most people from ever fully participating in sport, but that was never going to be the case for this Irish runner.
"I wasn't given any kind of favours"
The 25-year-old looks back on his relatively normal upbringing and credits that as the main reason for his success. "I wasn't given any kind of favours. When I stepped on that starting line, it was me against the other kids. It didn't matter if I had a disability, it was about who was the best and that's what I wanted to be."
He added: "Growing up from day one my parents gave me the same opportunities as my big sisters. It didn't matter if it was football or Gaelic or hurling, or anything like that. I was involved in anything I wanted to do."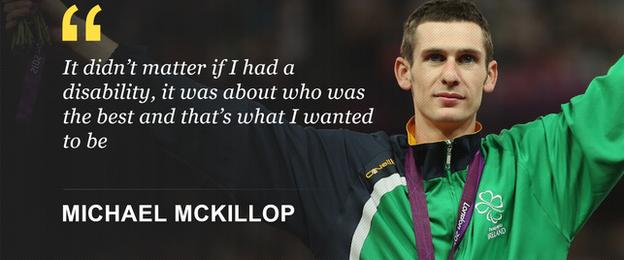 Michael's father Paddy, himself a former athlete, knew regardless of disability it was always going to be somewhat of an inevitability that Michael would be running and jumping into whatever sport he could. "Coming from a sporting family, it was always going to happen that he was going to be in and around his older sisters who were into gymnastics, or into running or whatever."
McKillop senior has fond memories of his son's competitive nature and love of sport. "He wanted to race up and down the garden against his older sisters and beat them. Nothing would hold him back. Even days when he was in a plaster up to his knee, it didn't stop him. I still remember days in the lashing rain out in the back garden, with the plaster and a plastic bag wrapped round it."
MICHAEL MCKILLOP FACTFILE
Born 27 January 1990
Competed in first Paralympic events aged 15 in 2005
Won first World Paralympic Gold in 2006
Beijing Paralympics T37 800m Champion 2008
Irish Under-20 Cross Country Champion 2009
Wins 800m gold at 2011 IPC World Championship
Double gold at London Paralympics 2012
Named the male athlete who best exemplified the spirit of the Paralympics at the Games in London 2012
Double gold at 2015 IPC World Championships
Michael's parents initially struggled
However, it wasn't all fun and games. Paddy admitted as parents, they initially struggled with Michael's diagnosis. Not knowing exactly what it was, and not knowing how to best to deal with it. But the more they read about the condition and the more they spoke to the professionals, the more they were convinced they already knew the secret which could aid their son's development, sport.
He said that from the age of two it was "give him a hurling stick. Give him a tennis racket. Give him a cricket bat, all sorts of balls, anything to get him to use two hands because of the weakness down his right hand side. And that was really his physiotherapy, but it was also his first way into sport in general and enjoyment of sport".
Get active and get involved
Paddy has a strong message for any parent with a disabled child who might have reservations about getting them involved in sport.
"Do not be hesitant. Irrespective of disability, get involved."
With countless years coaching experience, McKillop senior knows first-hand about the apprehensions that come with trying new sports. "It might take one or two different avenues before you find the sport you really enjoy. But it's worth persisting at, because it will open so many doors for you."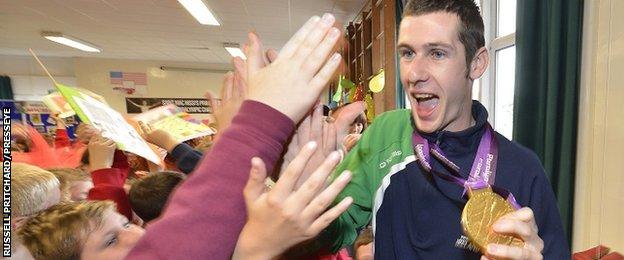 Current T37 1500m & T38 800m world champion Michael is delighted he has been able to inspire so many people. Michael says the outdoors is such a great place and with initiatives such as 'Couch to 5k' and park runs, the opportunities are endless.
"That's the first step to success, because that's where I started."
The three time Paralympic gold medallist has a final message for everyone.
"There's no barrier in life. The only barrier in life is a bad attitude. If you want to do it, you can do it. Don't let anyone say that you can't. Because believing in yourself, you can achieve whatever you want to do."
Inspired by Michael? Check out our guide to running to get you started. For more information on getting into disability activities, take a look at this guide.