Figure skating champion Christie Anne Shannon puts in the hours
By Keir Murray & Rhona McLeod
BBC Scotland
Last updated on .From the section Get Inspired - Scotland
"It just feels like I'm walking on water," says Christie Anne Shannon, describing beautifully the sensation of figure skating.
"Hopefully I can do it for the rest of my life."
This remarkable 13-year-old from Balfron in Stirlingshire is the Basic Novice A British Figure Skating champion, not that she would tell you any time soon. In fact, her school friends say she didn't even mention to them her win at the Sheffield finals in December.
Christie Anne knows she has a talent but is acutely aware of the hard work that is required to make something of it.
Four mornings a week she rises at 4.30am to get a training session under her belt before school.
Her mother, Shona, drives 400-500 miles a week to take her from Balfron to Murrayfield Ice Rink in Edinburgh, or to the rink in Kilmarnock, or occasionally to Stirling, and back, before most school pupils have even surfaced for the day.
Wednesdays are bookended by training sessions at Murrayfield and at Braehead in Glasgow. On the day the BBC camera followed her she was on the go for 16 and a half hours before turning in at 9pm ahead of a 4.30 rise the following morning. And all with a smile.
Impossible, right? Aren't there problems at school?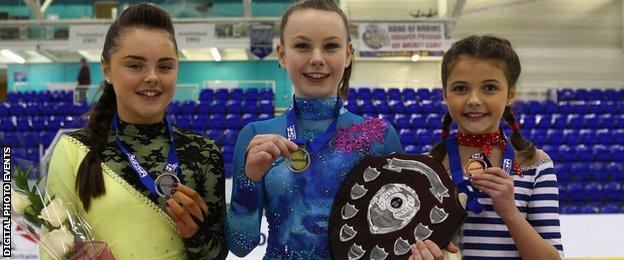 Well, no. Elaine Bannatyne, head teacher at Balfron High, describes the second-year pupil as "outstanding in almost every way".
"She has the most wonderful personality," she continues. "She's just a fabulous young person. She works hard, she is committed, she does well in all of her classes. You always find her the same way.
"We often think of older people being role models, and Christie Anne, being a second year pupil, actually she couldn't be a better role model for any of us at any age."
On Wednesday, Christie Anne, accompanied by her mum and coach Yvonne Cameron, flies to Budapest to represent Great Britain in the Sportland Trophy.
It's another hefty expense for her parents as they try to help their daughter realise her dream.
"I would like to go to the Worlds or Olympic Games some day. Those are probably my biggest goals," says Christie Anne, with a smile, of course.