Get Inspired: Visually impaired tennis player says sport gave her life 'purpose'
Last updated on .From the section Get Inspired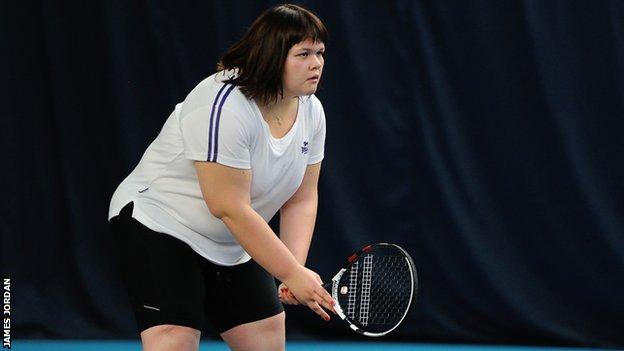 The 2016 Visually Impaired and Blind National Tennis Championships take place at the National Tennis Centre in Roehampton on 15-16 October.
Visually impaired tennis player and coach Rosie Pybus tells us how tennis has changed her life since she first picked up a racquet in 2010.
When did you start playing tennis?
I first tried tennis back in 2010, following the persistence of Wendy Glasper, a friend of mine who is also visually impaired.
Having had a negative experience of school sport, this was a hugely nerve-wracking thing for me and, after my dad got lost and ended up in a supermarket car park, I was just about to give up and go home when we finally found the venue!
At first, I didn't think that tennis was for me, but I could hit a few balls and soon realised, after my fifth session, while standing in a shop paying for a tennis racquet, that I was hooked.
How has the Tennis Foundation supported you?
The Tennis Foundation has been a huge help. I attended their visually impaired sessions and camps to begin with and it's spiralled from there.
I've taken part in competitions run by the Tennis Foundation around the country and now I work with them in my role as Sports Development Officer and to co-ordinate their Disability Tennis Network in the North East.
How are you involved in tennis now?
Alongside my role as Sports Development Officer I run regular VI sessions after having gained my Level Two LTA Coaching Qualification and I'm now a self-employed coach and consultant.
What impact has tennis had on your life?
Tennis has helped in every element of my life. The friendships I have forged through the game will remain with me forever, along with my newfound passion for challenging myself and achieving my goals in life.
Travelling to competitions has given me the confidence to speak to new people and try new things.
In 2013 I was offered the job as a Sports Development Officer working with Tees Valley Sport County Sport Partnership and the Tennis Foundation, which has enabled me to take my first step on a career pathway and to live independently.
Tennis has truly given me a sense of purpose in life.
What would you say to someone with a disability who is thinking about trying out tennis?
Give it a go and try everything twice. Tennis is the inclusive sport.
The magic of tennis is that you can play practically anywhere with anyone, and adapt the game to suit your individual needs.
Whether you go on your own, or with a friend or family member, just take that first step, because it is such a rewarding game to get into.