Get Inspired: How to get into darts
Last updated on .From the section Get Inspired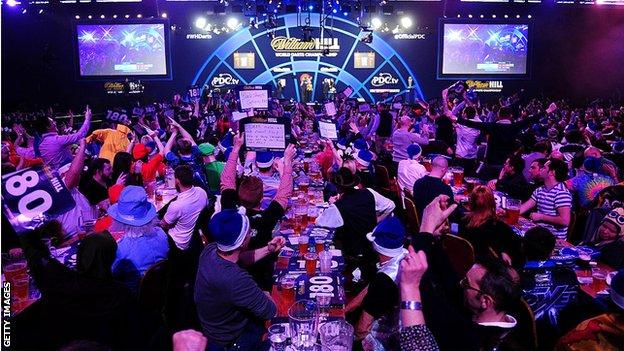 Fast Answers

Why get into darts?

It's an addictive hobby and a great way to meet new people.

Who is it for?

Anybody and everybody. If you can lift a dart, this sport is for you.

Is there a cheap option?

Most places will provide darts, although boards are growing increasingly cheap to bring the oche to your doorstep.

What if I want a proper workout?

Adapt the rules to your needs. Set yourself a target for a three-dart total and if you fall below it, do press ups for the amount of seconds you were under.

Can I take it to another level?

The pathway to the top is clearly highlighted by both the BDO and PDC - you'll just need to choose which to go with.

Is there a disability option?

The World Disabled Darts Organisation is working hard to make the sport more accessible.

Is there a family option?

There's no reason why everyone in the family can't take part in darts.

So how do I take part?

Go to our

Activity Finder

to get into darts near you.
Darts has a reputation as being slightly less vigorous exercise then some of its cousins.
That may well be true, but in terms of meeting new people, finding a hobby and perfecting a difficult craft, it's as good a sport as any!
The traditional route into darts has long been through your local pub, but an era of increased professionalism has opened up paths into the sport outside of the boozer.
Darts
Darts' increasing popularity as a spectator sport mean that few will be unfamiliar with the concept: two people take it in turns to throw darts at a board, scoring by landing them in sections awarding 1-20 points, with doubles and trebles available for each.
The British Darts Organisation and the Professional Darts Corporation are the two main governing bodies, and both offer their own routes into the sport.
Alternatively you can find local opportunities in Scotland,Wales and Northern Ireland through their local governing bodies.
Darts for youngsters
The PDC host both a qualifying tour for those looking to make it in the professional game, eligible for over 16s, and the Unicorn Development Tour, specifically for those aged 16-23.
If you want to get your kids into darts before they hit 16, a cheap option could be to buy your own darts board, with high street retailers selling them for under £20.
Women's darts
The BDO runs the Women's World Championships, which Englishwoman Trina Gulliver has won a record ten times.
Elsewhere, the Ladies Darts Organisation - who pose the question 'Who says ladies can't play darts?' on their website - are a good place to start to get involved in the sport.
Disability darts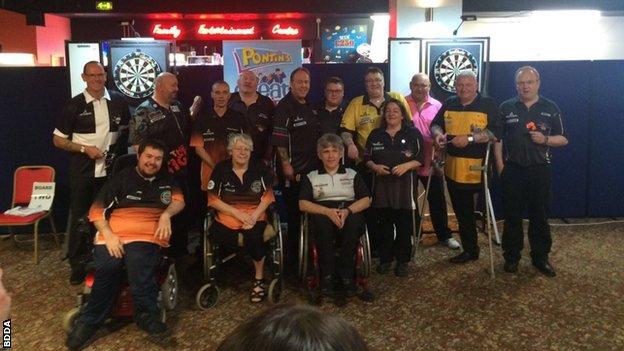 The British Disabled Darts Association (BDDA) was established in 2016 to help those with disabilities to take part in the sport.
The association use a modified dartboard, which can be mounted at a lower height to accommodate those in wheelchairs, and have set up ranking events for players across Britain, working alongside the BDO.
Contact the BDDA on Twitter to find out more.
What's next?
1. Find a local tournament here.
2. Share your story and inspire others.
Are you inspired to try darts? Or maybe you are a keen enthusiast already? Get in touch and tell us your story by tweeting us on @bbcgetinspired, visit us on Facebook or email us on getinspired@bbc.co.uk.
See our full list of activity guides for more inspiration.