BBC Sport - BBC Unsung Hero 2016: Football coach Andy Alcorn wins BBC Northern Ireland award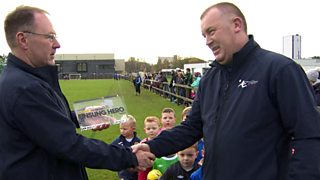 'He drives all of us'
Andy Alcorn, who runs the Harry Gregg Foundation small-sided games centre, wins the BBC Unsung Hero award for Northern Ireland.
In eight years the centre has grown from eight teams to 104 and the former Manchester United star Gregg says: "What they do is incredible. They are doing it because they love the game. They don't get any medals and I am very proud of it."
If you want to find out more about getting into football, read our inclusive guide.