2018/19 NFL season: How you can get involved in American Football
Last updated on .From the section Get Inspired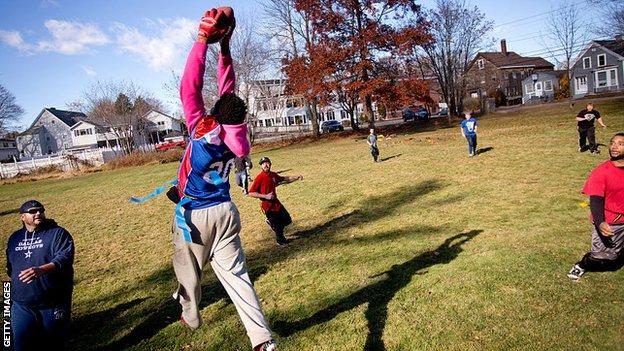 September sees the return of American Football to the BBC as the new NFL season kicks off.
Mark Chapman presents the new series of the NFL Show after Match of the Day on Saturday 1 September. As ever, he is be joined by two-time Super Bowl winner Osi Umenyiora and former Dallas Cowboys and Houston Texans cornerback Jason Bell for their thoughts and predictions on what is set to be another thrilling chase for the Super Bowl.
So, if you've had your huddle and are ready to go at the line of scrimmage, why not grab your mates and give it a go yourself?
To get you going, here are the former New York Giants team-mates Osi and Jason with their tips for starting your own game day.
Learning the basics
Check out our rookie's guide to learn the key rules, the player positions and the ultimate aim of the game.
Taking it to the next level...
American football can be played at adult, university and junior levels.
It's a very welcoming, inclusive environment and athletes with a disability are welcome to play too, although there is no formal competition structure in the UK for adapted American football.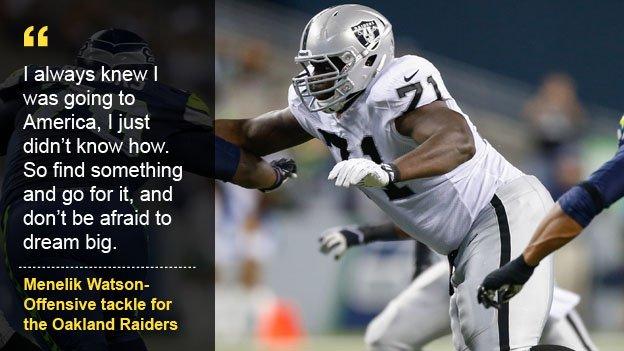 Clubs are always on the lookout for new members, with many able to provide taster sessions and full kit for practice and games.
'American football made me Body Positive!'
Charlie Novak plays for the Manchester Titans - one of the growing number of women in a male-dominated sport. Here's the inspiring story of how she went from not playing sports to being defensive captain of her team.
Anyone's game
Meet eight-year-old Isaiah Bird, who was born with no legs and plays American football for his local team in New York.
And if you are still looking for ways to get involved head to our guide where you can find all the help you need to start playing.