BBC Sport - International Handstand Day: British Gymnastics members battle it out in a handstand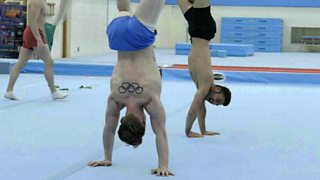 What does a handstand battle look like?
Members of the British Gymnastics squad take part in a handstand battle to see who can knock the others over and who is left "standing".
Keep up to date with what is happening on International Handstand Day with our live text commentary from 11:00-16:00 BST.
If you want to find out how to get into gymnastics, read theGet Inspired guide.
More #HandstandDay videos