Get Inspired: How to get into lacrosse
Last updated on .From the section Get Inspired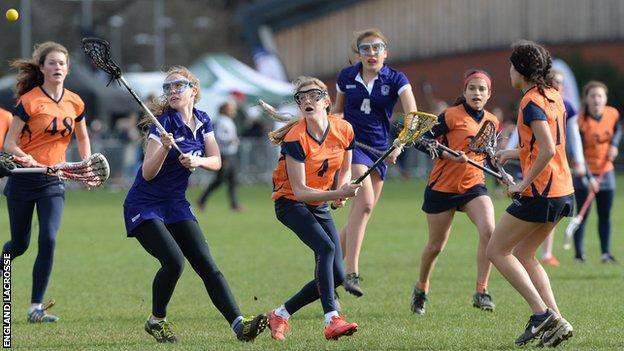 How do I start?
Find your nearest lacrosse club in England,Scotland,Wales and Northern Ireland.
What is it?
There are two opposing teams, with 10-a-side for men and 12-a-side for women.

Players use their lacrosse stick, which has a triangular shaped loose netting on the end, to try and get a rubber ball into the goal. The netting is known as the 'pocket' and can be used to pass the ball and shoot. The team with the most goals win.

Men's lacrosse is full-contact whereas the women's game is limited-contact.
Is it for me?
Lacrosse is a fast sport which will help improve your fitness, but there are many variations of the game which cater for different levels and abilities.
What to expect when I start
You will need a lacrosse stick, ball and the padded protection to start playing - but don't worry, clubs will have these for you to use when you first start - just get yourself along to your first session.

Lacrosse is a

great workout

- non-stop running on a football-sized field is enough to get anyone's blood pumping - you could

burn up to 533 calories an hour.

You will also work your

arm, core and leg muscles

, whilst

improving your agility

by sprinting in short bursts.

Lacrosse is very

sociable

with players and teams known for socialising off the field.

Also known as indoor lacrosse,

Box Lacrosse

is a six-a-side version of the game usually played on a covered ice rink or roller arena similar to ice hockey.

POP Lacrosse

is an easy introduction to the game for primary school

children

. It is a non-contact version of the game using inexpensive plastic sticks, softer balls and pop-up goals.

English Lacrosse also run the

Triple Arrow campaign

, training camps for girls aged between 10 and 16.
To get you in the mood ...
Are you inspired to try lacrosse? Or maybe you are a keen enthusiast already? Get in touch and tell us your experience of the activity by tweeting us on @bbcgetinspired, visiting us on Facebook or email us on getinspired@bbc.co.uk.
All clubs need a chair, secretary and treasurer to help things run smoothly as well as officials, coaches and judges. Whatever role you're interested in, Join In has opportunities to volunteer in your area.