Parallel London: Inspiring stories from the accessible fun run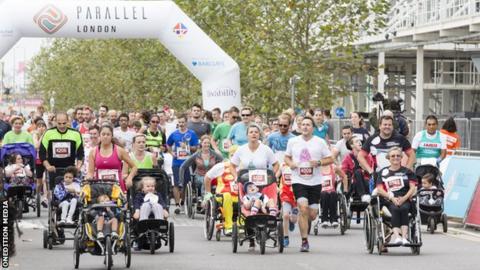 Parallel London, taking place on Sunday, 3 September, is the world's first entirely accessible fun run - welcoming any and all participants of whatever capacity, disability and ability.
The only rule? Give it a go. No cut-off time, no restrictions, no limits. Whatever you need to complete the course is entirely up to you.
"We're not trying to create a race for people with disability," organiser Isabelle Austin told Get Inspired. "We want to create a race for everyone."
With the focus on fun, around 4,000 participants from across the UK are expected to descend on London's Olympic Park.
"We want to see families and friends taking part together, especially if they're not used to being able to participate in the same activities," added Isabelle.
Here are some of those currently in training and looking forward to the event...
Maya
Race of choice: 5K run (and maybe the 100m too)
Raising money for: Amazon Children's Ward, Peterborough
Why decide to take part? Born prematurely with spina bifida and hydrocephalus, Maya also has epilepsy and hip dysplasia. She was thrilled to compete in last year's Parallel London 5K race, and can't wait to return and try to beat last year's time.
In 2015 she had a bilateral hip reconstruction, allowing her to learn how to walk and - to the delight and disbelief of friends and family - she intends to compete in the 100m race using just a wheeled walker.
Maya the unstoppable: "This was the start of a fire in Maya's belly to try new things," her family says. "She has frequent hospital admissions, surgeries and appointments but none of this stops her in her tracks!"
Chilli
Race of choice: 10K run
Raising money for: Make-A-Wish UK
Why decide to take part? Chilli - born with Lesch-Nyhan syndrome - is a big fan of sport. Having watched mum Ilona compete in plenty of running events, he's excited to finally join her. She'll be pushing his wheelchair as they make their way around the 10K track.
"I've never been in a race before, and when mum told me about this one, I was so excited. I can't wait to get my medal!" says Chilli.
The training has begun: Both mum Ilona and Chilli are ready for the challenge. "My mum is pushing me round," Chilli adds. "So I have to make sure she takes me on lots of long walks. I will shout at her to go faster!"
The Davis Family
(Jane Heggie, Mark Davis, Joseph, aged eight, and Lyra, aged two)
Race Of Choice: 1K run
Why decide to take part? Two-year-old Lyra has a working diagnosis of cerebral palsy and global developmental delay, which means she can't walk independently, talk or chew.
None of this prevents Lyra or her family from throwing themselves into challenges - including preparing for their first team race.
"We are really hopeful that Lyra is able to walk some of the distance with her walking frame, and possibly even a few steps unaided," says Jane.
They'll be celebrating Lyra's amazing progress in learning to walk and marking the milestone as a family.
All for one, one for all: "We signed up for the event because we wanted to take part in an event that we could do together as a family and which would allow Lyra to participate as much as the rest of us," she adds.
Joshua Campbell and Charlotte Hawkes
Race of choice: 5K run
Raising money for: Bobath Centre for children with cerebral palsy and The Glanfield Group (a charity that takes severely disabled and terminally ill children on holiday)
Why decide to take part? After watching her learning support assistant Tracey run the London Marathon, 12-year-old Charlotte decided that cheering at the sidelines wasn't enough.
Both Charlotte and friend Joshua (aged 11) have cerebral palsy and met as babies at a playground for disabled children. They'll be joined at the race by Tracey, Joshua's mum, dad and twin brother Edward, and they can't wait to take on the challenge.
Training tips? "Just keep at it," says Charlotte. "Never give up."
Parallel London takes place at the Queen Elizabeth Olympic Park on Sunday, 3 September. You can learn more about the event (and sign up) here.
There's also a free festival - with food, music and workshops all day - as part of the event, so even if sport isn't your thing, you can still share in the celebrations.