Golf takes on dementia: How playing the sport can reduce risks associated with the disease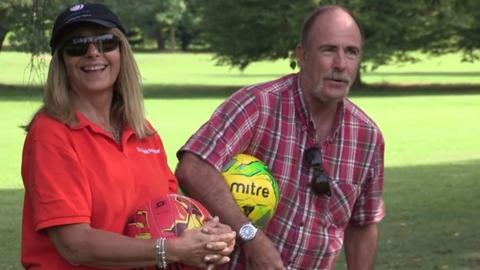 "My life seems to be growing, not shrinking."
That's the upbeat assessment of dementia-sufferer Wayne Eaton, a former business and IT teacher from Kent.
A report from England Golf and Sheffield Hallam University shows that regularly playing golf - and similar sports - reduces the risk of dementia for people over-55 by up to 30%. Providing a stimulating environment, golf can also slow dementia's advance.
Getting the buzz
Wayne took part in a recent footgolf event, a sport which combines football and golf, at Cobtree Manor Park Golf Club.
"I've never played golf and played a lot of amateur football in my twenties," he says.
"But you're outside playing footgolf, just kicking a ball around with friends, and you get the buzz of meeting new people. Living with dementia should be like living with anything else."
Fun and stimulating
Wayne's playing partner, Lorraine Brown, was diagnosed in 2014. Similarly, she took to footgolf immediately.
"The exercise helps with co-ordination and it stimulates the brain - but most of all it's great fun," she says.
England Golf chief executive, Nick Pink, hopes to roll out a scheme to get GPs to refer patients specifically to golfing activities.
"There's a sense of pastoral care," he says.
"You're not just taking them to a place full of other people who are suffering, like a hospice or care home situation, but to a place where it is about sport and physical activity, competition and general life."
You can find out more about Mytime Active's work around dementia here.
And if you're interested in opportunities to get into golf, check out the inclusive Get Inspired guide.