Love Swimming: Swim England initiative encourages families to put gadgets away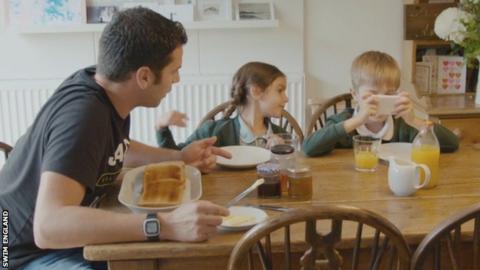 At family gatherings, at the dinner table or even on holiday, do you find it difficult to get your kids - or yourself - to put the phone or tablet away?
There is one place where your consoles cannot be taken - under water.
Love Swimming is a new initiative by Swim England which encourages families to swap their screens for swimsuits and shorts, putting devices aside once a week and instead visiting the local pool to spend some quality family time.
Visit our Activity Finder to find swimming near you.
Swim England and its nine partners launched the campaign through the 'Because their console doesn't work underwater' video.
"The constant 'put the console down' was just a normal day in our household," says Geoff Roberts, father to eight-year-old Ethyn and five-year-old Isla.
"Getting the chance to spend a few hours every week together at the pool has not only meant we are more active as a family, but we have the opportunity to spend more quality time together - and, most importantly, have fun."
Geoff is not the only one who feels that the digital age can be detrimental to connecting as a family.
Jane Nickerson, Swim England's chief executive, said: "When families are together, they are often watching TV or gadgets individually rather than being active.
"We are calling on mums, dads, children and grandparents to find their nearest pool and rediscover the enjoyment of interacting."
Whether you're a complete beginner or a seasoned swimmer, the sport caters for all. Here's our guide to find out which water sport is best for you and how you can give it a go.