RunTogether: Diana Postle thanks England Athletics' programme for positive effect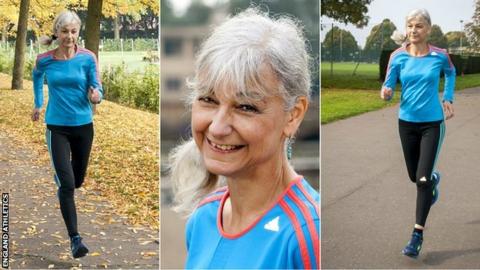 "The friendships I have made, along with the fun and laughter of the camaraderie, has been incredible medicine," says Diana Postle.
The 65-year-old from Norwich credits running in a group to turning her life around after the loss of her husband at Christmas 2015 after his long battle with cancer.
She is one of over 40,000 people who have registered for England Athletics' RunTogether programme since it was launched in January 2017.
The campaign aims to motivate people to improve their physical and mental health by running with others.
And it has certainly transformed Diana.
"For three years I had been going through the hardship of my husband's illness, death and the aftermath of that," she says.
Diana joined the 'Up the Tempo' RunTogether group in her area and has not looked back.
"Running in a group gives me a feeling of being 'safely enclosed' with others around me, yet not smothered by people's focused attention," she reveals.
"The RunTogether leaders and the group members lift one another up, and cheer us all to being, as well as doing, our best."
The recent Insights Survey, conducted for England Athletics from August 2016 to September 2017, reported nearly three-quarters (74%) of those questioned agree running is good for their emotional health and well-being.
And of those who said they had increased their running over the past year, 87% reported that the increased amount of running has improved their happiness and emotional well-being.
Comments from the survey
"Friends recommended running helps fitness. Since I have started running, I am better in health and my emotional state has improved." (August 2017)
"Friends were running and informed me of the benefits. I was suffering from depression. I found running helped." (July 2017)
"Physical exercise improves a person's well-being by releasing endorphins, the body's 'feel good' hormones," explains Dr Averil McClelland, who is a GP and elite masters athlete.
Find out how you can get into running with the Get Inspired guide and find a RunTogether group in your area.