BBC Sport - RAF mum Michelle has collapsed 150 times, but is now competing at the Invictus games.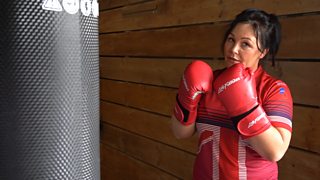 From collapsing 150 times, to the Invictus games
38-year-old mum Michelle Turner from Burscough, Lancashire served for over 20 years in the Royal Air Force and was diagnosed with a life-threatening heart condition after being deployed to the Middle East.
Postural tachyardia syndrome causes exhaustion, extreme dizziness and unannounced collapses and meant she confined herself to her house for fear of collapsing in public.
Michelle told BBC Radio 5 live: "I turned in to a girl who just sat on the sofa. It broke my husband's heart."
On one occasion, her then four-year-old daughter Maya, found her unconscious on the floor and had to act.
Michelle rebuilt her life after becoming involved in the Invictus games trials.
After being selected for rowing and swimming, he said: "I just want to make my daughter and my family proud."
This clip is originally from 5 live.