Adele Roberts' health hacks: BBC Radio 1 DJ to help you get fit in the new year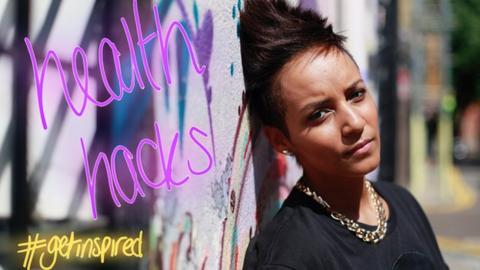 You may have tried and given up with all the fitness and exercise trends that 2017 had to offer - but it is almost the new year, which gives you a fresh chance to create a new you.
When daily life gets in the way, how can you find time to fit in exercise?
Coming up in January, BBC Radio 1 DJ Adele Roberts will share 20 daily health hacks to help you get fit without having to trudge to the gym on a dark winter's night.
Follow the BBC Get Inspired Twitter account and #GetInspired for your daily dose of Roberts' health hacks from 2 January.
Here are three to get you started...
Overnight oats
Save time in your morning routine by preparing some healthy overnight oats the night before.
Eating a healthy breakfast can stop that mid-morning hunger crave and keep you going until lunchtime.
Planking
Roberts fits in a few minutes of planking while songs are played out on her show.
It's an easy workout which you can do from almost anywhere.
Can you find time to plank at some point in your daily routine? Perhaps while the kettle is boiling or during television ad breaks.
Toothbrush squats
Dentists say you should spend at least two minutes brushing your teeth each time you do it.
How can you use that time wisely? Roberts works those leg and core muscles by squatting.