Adele Roberts' health hacks part five: BBC Radio 1 DJ helps you get fit in the new year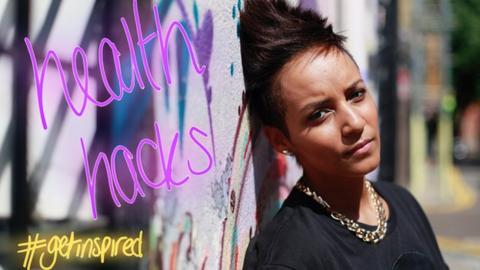 Monday, 1 January, remember it? The day you woke up and made those new year resolutions to get fit and healthy in 2018.
As we approach the end of the month, going to the gym or for a run may now be a big part of your daily routine.
But for those of you who are lacking the time and motivation needed, we have some good news.
Throughout January, BBC Radio 1 DJ Adele Roberts shared her top health hacks to get you on the road to fitness more easily.
The daily videos were posted on BBC Get Inspired Twitter,#GetInspired and on the BBC Sport Instagram account.
So far, the weekly best clips this month have included:
And here are the top three tips from the final week...
Leave your trainers by the door
Don't find an excuse to not exercise, leave your trainers by the front door so that whenever you leave the house you're reminded to go for a run.
Wake up, sit-up
What do you do when you first wake up? Hit the snooze button several times or check your phone and scroll through social media? What better way to start your day than by working your abdominal muscles and doing a few sets of sit-ups in bed?
Get your groove on
Adele's final health hack for January is a good one. It's the end of the month, it's pay day, so treat yourself to a night out and get your groove on. Or you could even stick on your favourite music playlist and burn some calories by having a dance in your living room.
Want some more ideas on how you can work out and keep fit at home? Check out this BBC Get Inspired guide.