BBC Sport - FA People's Cup: Meet the bus drivers aiming for walking football glory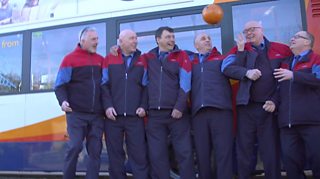 Meet the bus drivers aiming for FA People's Cup glory
Ahead of the FA People's Cup first round we catch up with Team S.P from Peterborough, made up of bus drivers who haven't played football for many years but are giving it a go in the walking football category. Good luck guys!
READ MORE: More than 50,000 kick off FA People's Cup
You can see more of the action and the people playing in the FA People's first-round highlights programme on the iPlayer.
More FA People's Cup videos