Sport England survey: Walking is the most popular as nearly 62% exercise recommended amount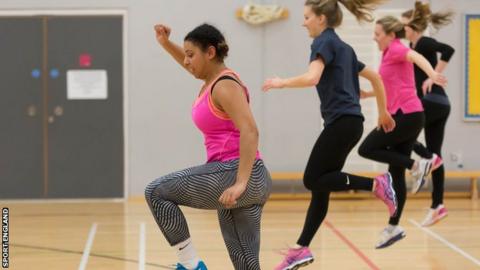 Walking is the most popular exercise in England with younger people also opting for High Intensity Interval Training (HIIT), according to figures released by Sport England.
Their Active Lives survey, taken from a sample of nearly 200,000 respondents, suggests 61.8% of the country exercise the recommended number of minutes each week.
It also says that nearly 28m people in England do at least 150 minutes of exercise per week - although the figures remain the same as last year.
According to the survey, more older people are exercising each week. An increase in participation rates with activities such as brisk walking, including hill and mountain walking, has resulted in the the number of 55-74 year olds meeting the 150 minute threshold rise from 58.3% to 59.6%.
Interval training exercises such as HIIT sessions, which can be found for free online, are popular with younger people, according to the report. HIIT sessions alternate between high-intensity and low intensity exercise - for example, sprinting for 30 seconds, then walking for 60 seconds.
There are 518,000 more people doing interval training sessions, says the survey, with 20% doing so from the comfort of their own home.
"While the overall activity levels of the nation are stable, what people are choosing to do is moving with the times," says Jennie Price, CEO of Sport England.
"The popularity of HIIT shows the power of social media, and many older people are choosing to spend their leisure time in the great outdoors."
The survey also shows the increasing popularity of adventure sports, such as rock climbing, abseiling and Parkour.
However swimming and cycling rates have dropped, with 283,000 fewer people swimming, and 93,000 fewer people cycling.
Other key findings show that those on lower incomes and disabled people are still much less likely to be active enough to benefit their health, although Sport England has allocated 25% of its investment to tackling inactivity between different groups in society.
The full report can be accessed on the Sport England website.