London Marathon: Sandeep Chauhan aims to control his diabetes through exercise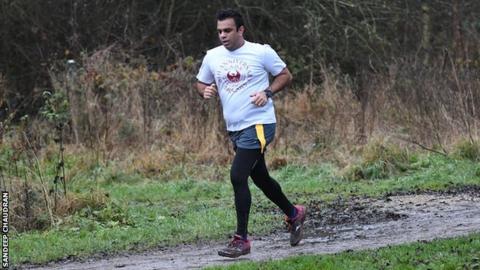 Date: Sunday, 22 April Start times (BST): Elite wheelchair (08:55), World Para-athletics Marathon World Cup (09:00), Elite Women (09:15), Elite Men & Mass start (10:00)
Coverage: Live on BBC TV, HD, Red Button, 5 live sports extra, BBC Radio London, online, mobile, the BBC Sport app and Connected TV
As we build up to the London Marathon on Sunday, 22 April, Get Inspired will bring you five inspiring stories - one each day until race day - about runners who will be taking on the 26.2-mile course. Here's the second...
On Sunday 22 April, Sandeep Chauhan's fiancee, parents and brother will be cheering on from the sidelines as the 38-year-old runs his first London Marathon (and first ever marathon).
In May 2015, Sandeep was diagnosed with type-2 diabetes, a condition that also runs in his family.
Diabetes is a lifelong illness affecting your blood sugar levels, but fortunately for Sandeep he can control his condition through a healthy diet and exercise and without the need of medication.
After being diagnosed, Sandeep decided he was going to do everything he could to get fit and not let diabetes get the better of him, joining Kimberley and District Striders running club.
"I want to lose weight, improve my health and general fitness and see how long I can stay off medication," he says.
"The London Marathon is the first step in a lifelong battle to control my diabetes."
Sandeep will be raising money for Diabetes UK, saying he hopes it will "help others whose diabetes affects them more" than it does him.
"I want to help the research into diabetes so that one day we may be able to fully understand it and how best to combat it."
After completing his training with his last long run 17 days ago, Sandeep was aiming to get plenty of rest before race day.
And as for the reasons for choosing London?
"I'm probably only going to ever run one marathon," adds the man from Nottingham. "So it may as well be the best one in the world."
You'll be able to follow the live TV and radio footage along with live text and the best of social media with the London Marathon live page on the BBC Sport website, app and connected TVs.
Get involved with the conversation in the build up and on race day using the #GetInspired hashtag on social media or email us.