BBC Sport - FA People's Cup: 'I want to break that stigma and stereotype'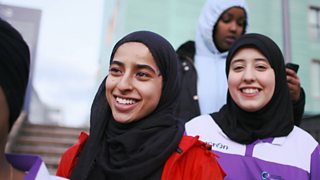 'I want to break that stigma and stereotype'
Meet Joseph Chamberlain College girls - the FA People's Cup futsal team inspiring Muslim women to take up football.
You can catch up on all the action from the FA People's Cup semi-finals on the iPlayer.
And follow all the live action from the finals with our live text commentaries on Saturday and Sunday, 28-29 April.
More FA People's Cup videos