London Marathon: Couple to run together after race-day wedding
Last updated on .From the section Get Inspired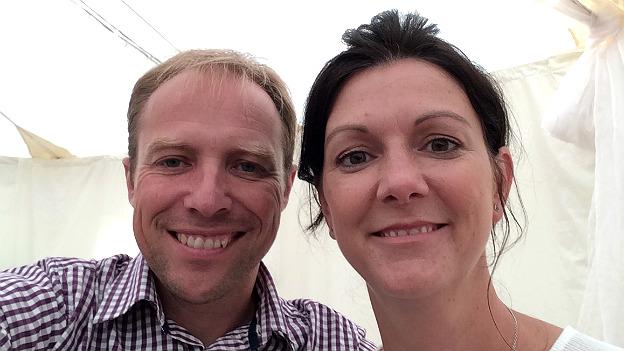 Here comes the bride, all dressed in... running gear?
A couple who runs together, stays together - that's what Mel Elliot and James Parker, both 46, will be hoping for as they take part in the London Marathon on one of their most important days of their life - their wedding.
Just hours after tying the knot in Greenwich, the pair from Leicester will take on their first marathon together, cheered on by their nine-year-old daughter Jess.
"As keen runners we wanted to do the London Marathon together and what better opportunity to do it but as newlyweds," says Mel.
"Within days of securing the charity places, I had the registrars and venue booked."
It's a plan that they've secretly been putting together for some time - doing the Leicester Half Marathon in October 2017 together as part of their preparations, without letting on to family and friends at that point their ultimate goal.
"The ceremony will take place at 7.30am in Greenwich to give us plenty of time to get to the start line, while our guests can enjoy a bacon butty and a cuppa," says Mel.
In fact they'll not even have time to have change - so will be married in their running kits and be identifiable on the course by their veil (Mel), top hat (James), 'Just' and 'Married' signs on their respective backs and holding a balloon from the wedding venue on a string.
Mel and James have been together for 20 years and, as Mel explains, "running has always been a part of our lives - but not distance running".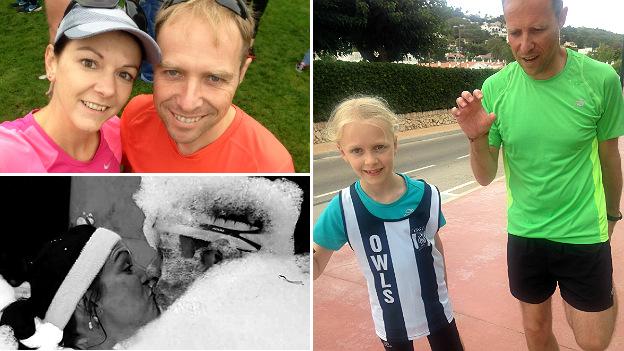 Jess, who trains twice weekly with the Leicester Owls Athletics club and does 2K cross-country races, has been inspired by her parents' efforts and is "very excited" about the whole event in London and prospect of seeing Sir Mo Farah.
"She's already keen to do it as soon as she's 18," adds Mel.
The couple will be running for Get Kids Going!, a charity which provides opportunities for children with a physical disability to get involved in sport.
So rather than receive wedding presents, Mel and James have shown their generosity by asking wedding guests to donate to the charity instead.
"As an established family already we thought we could raise funds for a charitable cause," explains Mel. "Who needs more household stuff after all these years anyway?"
And as for the honeymoon?
"James is a teacher so has kindly been given the day off on Monday," Mel explains. "But we'll all be back at work and school on Tuesday.
"Our family summer holiday will count as our honeymoon."