Mental Health Awareness Week: Dawn Nisbet on benefits of running to wellbeing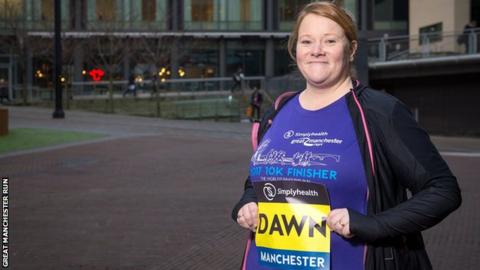 In the first of a two-part blog, Dawn Nisbet - whose picture went viral on social media after a parkrun in 2017 - reveals how running has helped her mental wellbeing.
Wow! It's nearly a year ago that I undertook my first ever 10k - the Great Manchester Run.
Since that epic day, I have done two more 10k runs. I wouldn't say I find them easier, but I still enjoy them.
I covered more than 640km in 2017, achieved my 50th parkrun in early 2018 and can honestly say my life is totally different.
Saturday starts with parkrun, Sunday I do junior parkrun with my youngest daughter, who is 10 (she has even got her friend coming along with us), and then I go horse-riding.
It had been my passion since being young, but I had lost all confidence in myself and had stopped 18 years ago. To have rediscovered my love of horses is a true gift.
This whole journey has also helped me realise how little faith and pride I had in myself before I started running.
There was so much I didn't do because I was low in self-confidence, leading to low mood and low self-opinion.
Don't get me wrong, I was happy in my life with my fabulous children and my amazing husband, but I had lost myself, who I was and what made me happy along the way.
I think we all wear so many different hats in our lives, it can be a juggling act and I think I had sacrificed myself to make room for all the other hats - mum, wife, working full-time, cleaner, cook, taxi driver and all the other things that I try to fit into a 24-hour day.
I am happy to share that I had sought support via counselling over the years to try to work out why I felt so lost while wearing all those hats.
It's not all positive for me all of the time - I don't think anyone can say that.
But running has certainly reignited that fire in me that I thought I had lost and has given me a sense of self and a sense of purpose. It has definitely given me something to be proud of in what I have achieved.
So when I have low days or weeks, I know I now have the tools to be able to pick myself up and work back towards being happy again - and having that balance between all of my hats.
For years, I didn't like what I saw in the mirror and assumed I didn't do things or didn't feel happy because I was fat. I used to say "I'll do that when I am thin" or "I'll be happy when I'm thin" or "I can't do that because I'm fat".
But what is interesting now is that I don't hate the person looking back at me.
She doesn't look that different as I have only lost a stone in weight, but I see her and think she is strong and determined and goes out and achieves what she sets her mind to, no matter how hard it is.
So 'happy' didn't come with thin, 'happy' came from finding out what made me happy and going out and doing it, and making incredible friends along the way.
So now I blog occasionally, post loads of my progress and pictures on Twitter and Facebook (I had to be brave and make my profiles public so anyone can see a real and honest account of my journey).
I've started a group called Bee-Awesome for runners of all ages and abilities to just share their running stories with each other - many of whom are taking on either the 10km or half marathon at the weekend.
I've shared the good and bad days.
If I can share my story and inspire just one person to give it a go, finding their own happy whether it be through running or something else, I will feel I have made a difference.
Read about Dawn's memories of the 2017 Great Manchester Run and this year's event in the second part of her blog on Saturday, 19 May.