Great Manchester Run: Pankhurst Centre Runners commemorate women's suffrage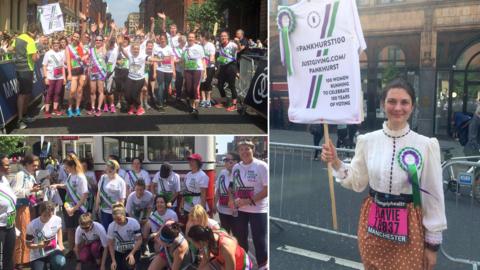 Take 100 years of history and times it by 100 women.
That was the equation for the Pankhurst Centre Runners to make the 10,000m of the 2018 Great Manchester Run.
To commemorate the centenary of women getting the vote, the group that looks after the birthplace of the Suffragettes movement sent a call out for women to gather together again in union - this time to run.
The Pankhurst Centre, next to the Manchester Royal Infirmary, is where Emmeline Pankhurst - the leader of the Suffragettes movement - lived with her two daughters.
It is also where the Women's Social and Political Union held its first meeting in 1903.
"100 years ago a parliamentary act profoundly changed the way we defined citizenship in our society," said Flavie Vial, one of the Pankhurst Centre Runners before their run.
"It's incredible that 100 years on we can all come together to celebrate those very brave women who fought so hard for many years to give all of us a platform to be able to express our views and concerns and finally be listened to.
She described their taking part as " just a very small tribute for what was an amazing achievement from trail leaders".
"It's an incredible celebration and it's also important to think just how far we've come but also how much more there is still to do," added Bex Schindler.
"It's really important that we raise awareness about our city's incredible heritage and our radical Manchester roots."
All abilities signed up - some who had done marathons and were after personal bests, others who started running in January just hoping to finish and some returning after a break.
It was "a mixed group brought together by a common cause".
They were able to share training tips with each other through a Facebook group and, though a few had to pull out, around 75 lined up at the start.
One of those was Claire-Marie Boggiano.
'I couldn't say no'
"I've always been quite energetic but not necessarily through sport or active fitness," said Claire-Marie.
"This time last year I started the Couch to 5K programme and it took me 16 weeks to do the nine-week programme (I would also go out in the dark of night so no one could see me)!
"In January, I made a New Year's resolution to do a parkrun. I knew I could run for 30 minutes but didn't know if I could run 5km."
Claire-Marie has now done her local parkrun in Stretford, Manchester "about 12 or 13 times" and, after her work brought her into contact with some other women joining the Pankhurst Centre run, she was persuaded to undertake her first ever 10k.
"I couldn't say no," she said, before quoting her husband as saying: "If the Pankhurst can get Claire-Marie to run they can do anything!"
And though she is not rushing to sign up for another 10k she said: "I'm really delighted I've done it and the people that supported me.
"I'm really looking forward to the next parkrun as it will be shorter!"
Indeed her efforts are already having a ripple effect.
Her three boys, who all enjoy swimming, "can't believe I've done it. They're inspired and the little one is very keen to do the mini Great Manchester Run next year."
'I wasn't quite as brave as my sister Suffragettes'
Flavie, a civil servant, also came across the Pankhurst Centre running campaign through work - and it tied in nicely with a project of her own.
"In the last few years I've realised the mental benefits of running," she says. "But I find it quite hard to get motivated."
So her strategy was to sign up for regular runs and she vowed to do 12 runs - or running-related events - in 12 months from September, 2017.
That had included triathlons, night-time trails and even a canicross - the sport of running off-road with your dog.
So when she discovered the Pankhurst Centre's plan for the Great Manchester Run, she added it to her list.
And while the mileage might not have been so daunting for her, her choice of clothing was.
"The dress had to come off halfway through the race," Flavie said.
"Running in that polyester dress in that heat was a challenge too far. I wasn't quite as brave as my sister suffragettes."
But, like Claire-Marie, Flavie's efforts have also affected her five-year-old son, who has been brought up being shown that sports and exercising can be fun.
"He's already done a few children's races," she said. "His first was when he was three."
So what's next?
As she heads back to her parkrun (with suggestions to try some other local ones as well), Claire-Marie will be taking part in the first Women's International Network (WIN) conference in Manchester on Thursday, 7 June.
Flavie has yet to decide on her running challenge for June but will be attending one of the Processions events in Belfast, Cardiff, Edinburgh and London on Sunday, 10 June, which also celebrate 100 years of women voting.
If the thought of running 10k might seem a bit too much for you, why not join in that for a good walk?