Volunteers' Week: Sport England team up with Volunteer It Yourself to help clubs
Last updated on .From the section Get Inspired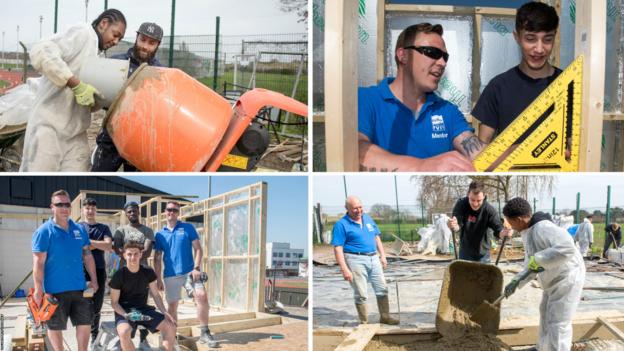 Croydon Football Club is getting a new changing room and washroom extension this year - and it's all down to an exciting new partnership between Sport England and a project called Volunteer It Yourself.
The work at the Croydon Sports Arena is the first of 15 new sports club refurbishment projects across England over three years, funded by £125,000 from the National Lottery via Sport England's Potentials Fund.
It will not only enable the club to support itself better and boost grassroots football in Croydon, but help young people in the area as well.
Volunteer It Yourself (VIY), which was founded in 2011, is a project which challenges those aged 14-24 to learn trade and building skills, on the job, and gain vocational skills accreditations.
It specifically works with those who are are unemployed, NEET (Not in Education, Employment, or Training) or at risk of becoming NEET and have not previously volunteered or participated in social action.
"I really enjoyed working on the project in the first week so I came back to do more," explains 16-year-old Nile, who is one of the 70 local young people involved to date in Croydon.
"I've gained two City and Guilds, which is great for my confidence. Helping out your local sports club feels really good and I've signed up to keep volunteering at the club in the future."
Indeed 43 other young people have achieved the similar accreditations through their participation in the project.
And they have all been supported by 39 local trades people.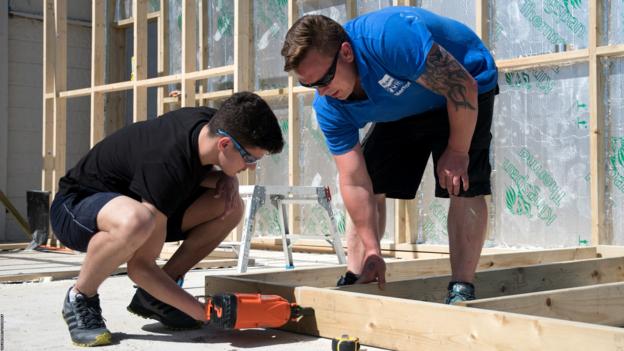 Alan Dalton, who is lead mentor on the Croydon project, has assisted on more than 20 VIY projects.
"I am a carpenter and multi-trade handyman. I heard about VIY from another of their mentors and was amazed by the work that they are doing," he says.
"I grew up in the care system myself which helps me connect with some of the harder-to-engage participants."
But those are certainly in the minority.
"Most of the young people who have taken part have all been so incredibly committed and keen to learn," he adds. "Their attitude has been exceptional."
Croydon Football Club have been chronicling the progress of the work on their Twitter feed and the young people who work on their projects often get involved with the sports there as well.
"It's a subtle way of drawing people into the world of sport," says VIY director Tim Reading.
So how can your club get involved?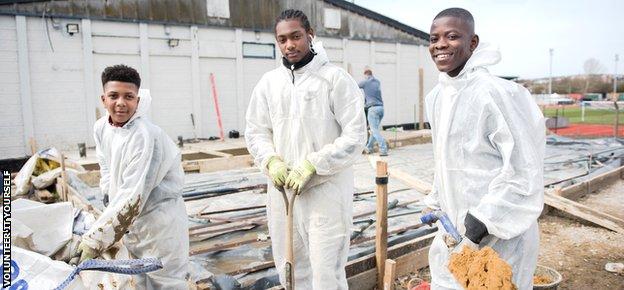 The 15 Sport England funded clubs is a trial to see if there is a model to be able to support more clubs across the country and make funding go further.
Some of the other initial projects that the grant will be helping are a grassroots rugby club, a boxing and wrestling academy in Leicester, a canoeing club in London and an inner-city golf club in Sunderland.
So how can clubs get involved and potentially benefit from VIY's help?
In the first instance, clubs should contact info@teamviy.com for more information.
All applications are then considered by VIY in conjunction with Sport England and the relevant local County Sports Partnerships.
And there is an audit to see if the club can mobilise sufficient people to take part and support it internally.
"We're open to hearing from anyone and always open to good local projects," adds Tim.
This piece is helping to celebrate Volunteers' Week and you can find out how to get involved in sports volunteering with our special guide.
If you know someone who is active in grassroots sports or generally getting people active we will again be recognising them in the 2018 BBC Get Inspired Unsung Hero award.