Reece Cattermole: UK's only deaf professional boxer on overcoming obstacles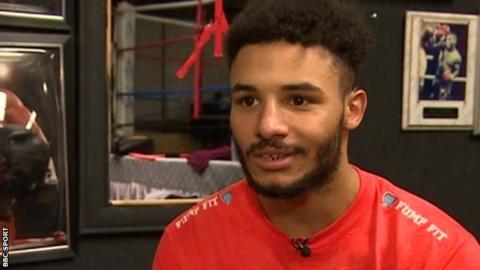 Ding, ding, ding - the three rings of a bell which signal the start of a boxing match are synonymous with the sport.
But what if you cannot hear the sound - or instructions from the referee and your corner?
Reece Cattermole was diagnosed with a genetic, degenerative hearing condition at the age of three and is expected to be completely deaf by the age of 40.
Despite that, the 21-year-old from Ipswich is the UK's first registered deaf boxer to be granted a professional licence since the 1970s, and won his four-round debut contest last month.
"Before boxing I had little understanding of hearing, how it works, what it is," he told BBC Sport.
"I never quite knew how to deal with situations before they happened. Boxing also helped me learn how different people communicate."
Anger, frustration and isolation
Middleweight Cattermole was introduced to the sport at the age of 11, when a taster group came into his school.
By that point he had started anger management to deal with the frustration his disability was causing.
"It started off back in high school when I was struggling to come to terms with my hearing," he adds.
"It was a mental thing where I felt quite isolated, not being able to hear or understand people."
Six years later he had his first bout in the amateur ranks, where his high work-rate made him stand out from the crowd.
"I can understand some people can be in the same position I was, feeling low," he said. "Knowing I've overcome those obstacles, if I can inspire people to do the same I get that good feeling.
"Boxing takes your mind off a lot of things. Whatever you personally feel - anger, confusion, excitement - you can take it out on a bag without feeling any guilt."
A fight to reach the ring
Since last September, the Suffolk fighter has worked with trainer Rob Ottley, who accompanied Cattermole through his first training camp and for most of his extended 10-month wait for a professional licence from the British Boxing Board of Control.
Their records show David Cave, a boxer in the mid-1970s from Cambridgeshire, as the only other deaf pro from the UK.
"It was a scary thought, not knowing if I'd get the licence," he said.
"What got me it was when they referred me to a top hearing surgeon. They requested his opinion as my hearing will eventually get worse through time, but he had a fair point - it's no different to someone getting hit in the ear.
Ottley continued: "Some days he was worried all the training would all be for nothing.
"It was quite a progressive move for the board to grant a licence - it's not a sport which you'd normally associate with a disability.
"You know some of the bad publicity boxing gets, this is a positive story. It shows despite disability you can still achieve what your dreams are."
Cattermole's anxiety about being able to box for a living was in stark contrast to his feelings about the day when he will lose his hearing altogether.
"That doesn't get to me in any way at all," he said. "I've got family, friends, everything around me I need - that's actually the least of my worries."
'I let people think I'm stupid'
Cattermole wears a hearing aid, which he has to take off for sparring and fights, and lip-reads interview questions via video call.
"People make the mistake that just because he's deaf, he's stupid. He's a very switched on young lad," said Ottley.
The man himself is nonplussed.
"That's just one of the natural things - my girlfriend calls me deaf and dumb," he joked. "It's what people think the first time they see you're deaf. I just let them think that and take advantage."
Several subtle adaptations are made by his trainer to make the relationship work.
"If I need to start or stop something, I have to tap him on the shoulder," Ottley told BBC Sport.
"We have little signals and I have to make sure I'm facing him.
"If he's in the ring I try getting him to glance over once in a while - I bang the canvas even though I'm not meant to - three times means 'pick the pace up', one time means 'steady on'.
"It's against the rules as a trainer but, in the circumstances, I'd take a telling off from the ref."
'He can climb the ranks quite quickly'
His points victory over experienced Italian Victor Edagha has raised expectations, but Cattermole has two clear objectives in the sport.
"Our main aim is to go for title fights at British level, but for me personally inspiring others is one of the main goals," he said.
"I've been asked to do a talk about my story to youngsters and put on a training camp - that's another good thing, being able to help."
He and partner Bella are expecting their first child in August, something Cattermole says "will change me entirely, how I view things".
However, that is unlikely to temper his endeavours in the ring, with Ottley planning at least one more fight for him this year - possibly as soon as July.
"I think he can do very well and I don't want to jinx it but he can climb the ranks quite quickly," he said.