Andy Murray: British tennis star teams up with National Health Service to promote healthy living
Last updated on .From the section Get Inspired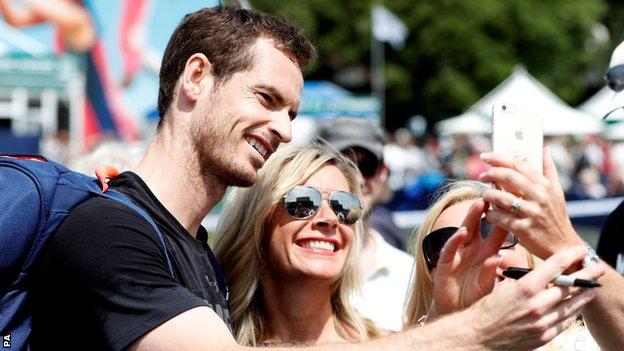 British tennis star Andy Murray has teamed up with the National Health Service to promote the benefits of exercise and physical activity.
To celebrate the NHS' 70th birthday, Scotsman Murray, 31, will support campaigns which encourage people in the UK to eat healthier and get active.
"I am a huge supporter of the NHS, but we all know it is under pressure," said the three-time Grand Slam winner.
"If we can increase levels of activity as a nation, it helps improve mood, self-esteem and energy, but it will also reduce the strain on the NHS by keeping us healthier."
Murray says he is "proud to be supporting Change4Life," a campaign by Public Health England which aims to help families make small but significant changes to improve their diets and exercise.
He will also support children's physical activity programmes like the Daily Mile in Scotland, Northern Ireland and Wales.
"It's especially important to instil these habits early and support and inspire young people to maintain them as they go through their teenage years," he added.
Dr Alison Tedstone, chief nutritionist and head of physical activity at Public Health England, said: "Getting people more active is essential for a healthy lifestyle.
"It's great to see a champion like Andy Murray working to raise the profile of physical activity."
Visit the NHS70 website to find out more about the Change4Live campaign and ways in which you can keep healthy.