NHS 70th birthday: How National Health Service staff are staying fit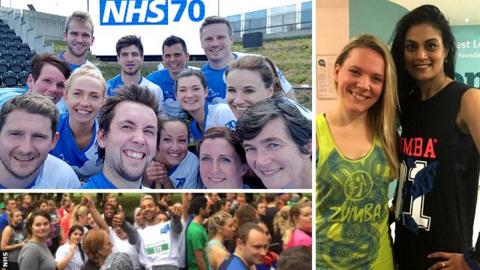 When the National Health Service was formed in 1948 it was, as Aneurin Bevan said, laying "for the first time a sound foundation for the health of the people".
More recently, the organisation has become aware it is equally important to keep its staff fit and healthy as well.
One of the objectives to mark the 70th birthday was to motivate staff to look after themselves - and that's just what some of them have been doing...
Inaugural hockey match
"Encouraging our workforce to take care of themselves is one of the focus areas of the 70th celebrations," said Karen Swinson, nursing productivity lead at NHS Improvement.
"And never has it been more important to keep our workforce fit and active."
Karen led by example and organised the first NHS v Royal Navy hockey match at the Lee Valley Hockey and Tennis Centre, the venue for the forthcoming Hockey World Cup.
Alongside Karen were a cardiac specialist, director of nursing, paramedic, anaesthetist, clinical psychologist, mental health nurse, physiotherapist and two students - the future of the workforce.
And, despite being on the other end of a suitably appropriate 7-0 NHS victory, the Navy have invited the health service to make it a yearly event and potentially open it out to teams from other public-sector workforces.
Blue wave in Manchester 10K
A little earlier this year, a larger group of NHS staff and supporters did their bit to prove their dedication to staying fit and healthy.
"We need to be champions as NHS staff," said Geraldine Thompson, staff governor of the Manchester University Foundation Trust.
"We need to look after ourselves - our mental health and wellbeing - so we can take best care of our patients."
Geraldine was one of just over 270 people - including the chairman and chief executive - representing their organisation at the Great Manchester Run in May.
Running together as a 'blue wave' in the event (setting off altogether in matching blue T-shirts), alongside the tens of thousands of others, they took on the 10km course through the city's streets.
"I was nervous before the race but also excited to be involved in something so big," admitted midwifery ward manager Clare Docherty.
"The 22 degrees of sunshine made the run tough but the crowds spurred me on to the finish line. It really was the best day."
From silent disco to hula hooping
And it's not just the big events that have been taking place.
Other NHS trusts and staff around the country are finding their own various ways of maintaining their health and wellbeing.
Having launched their staff and wellbeing plans in 2017, the Central and North West London Trust started various schemes such as 'Let's Walk to Health' lunchtime walking groups, Cycle to Work and a variety of subsidised and/or free staff exercise classes and massage sessions.
"We run lots of activities for staff but also encourage them to take up activities they might be interested in too," explains communications officer Alisha Nurse.
"So we tend to have a lot of staff organising their own runs, walks and hikes etc, often for charity."
A group of staff from the Neonatal Unit (ward 35) at Newcastle's Royal Victoria Infirmary took part in a three-hour spinathon, raising nearly £2.5K for the Tiny Lives charity.
And then there are the individuals like Susie Rice-Mundy, who is like so many more NHS staff getting out and getting fit on her own.
The nurse was on hand to help relaunch the Couch to 5k app in Hyde Park in March as she attempted to get back into running.
And, with suitable timing, she is due to finish week nine this week.
"It's hard to keep fit when you get older, so the Couch to 5k is great for a really busy lifestyle," she said.
"I can't believe I have come this far. I was really surprised how I enjoyed it!"
Indeed Susie is already planning her next exercise challenges, taking part in a 'boogie bounce' class on mini trampolines and continuing running up to 10K.
"This has changed my mindset about exercise," she added.
"I always felt I never had enough time or going to the gym was expensive, but with running I can fit it around when I want to go and find myself looking forward to going!
"I hope now I can give advice to patients that we can all fit in some form of exercise to keep us healthy and running is a great way to do that."
Are you part of the NHS and do you have a story of how you or staff in your area are you individually are keeping fit and healthy? Let us know on using #GetInspired on social media or email us on getinspired@bbc.co.uk