#changethegame: The 'Sisters with Blisters' - a community of runners from across the world
Last updated on .From the section Get Inspired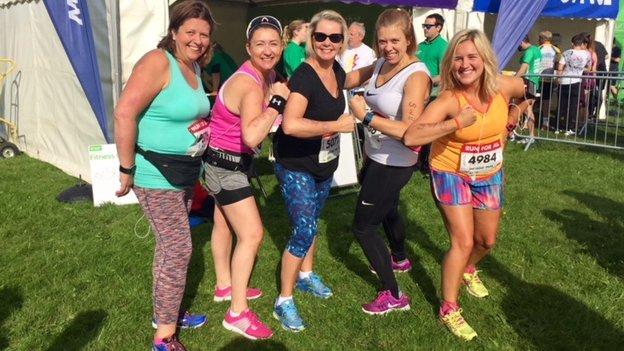 Sisters, with blisters, are doing it for themselves.
In the space of a year, 46-year-old Yvonne Wadeson from York went from being barely able to run to the end of her street to completing a marathon.
She also set up the Sisters with Blisters Facebook group, which now has almost 5,000 members, from all parts of the world.
Those in the group support and encourage each other, meet up locally for runs and often socialise afterwards.
"Sisters with Blisters was a natural name," says Yvonne.
"It just implied that we're a bit rubbish at running, we will all get blisters, but we'll get through it together.
"As long as you're a woman and you want to run, you can come in."
'I was really scared' - Yvonne's story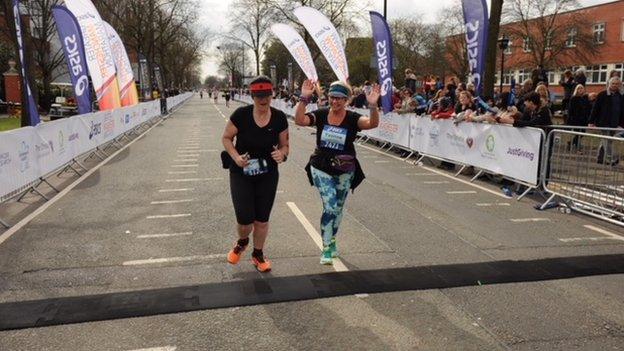 While watching the 2017 London Marathon, mum-of-two Yvonne sat on her couch and made a passing comment to her family.
"I said to my kids and husband that I would love to run a marathon. No-one even looked up. They didn't even acknowledge it," she says.
"I thought to myself, 'they don't think I can do this.'"
Yvonne wanted to prove them wrong. She used to work in the armed forces, so expected that she could easily get back into training.
"Nothing ever bothered me; people didn't faze me in gyms. But I put my trainers on and for the first time I was really scared.
"I was sitting on my stairs thinking that people will laugh at me, I can't do this."
Yvonne says that one of the biggest barriers for her, and many women who are new or returning to running, is worrying about what people may think.
"You see all these runners who look fabulous in their ponytails, they look amazing, I knew I wouldn't look like that and people would laugh and heckle, that I would look like a middle-aged, overweight mum."
Yvonne says that in reality she had nothing to worry about and found that people "are just too busy with their own lives" to stare or even notice her.
She started training by using the Couch to 5K smartphone app and with her new willingness and determination, coupled with the support of Sisters with Blisters and her husband, just a year later she completed the Manchester marathon.
The global rise of Sisters with Blisters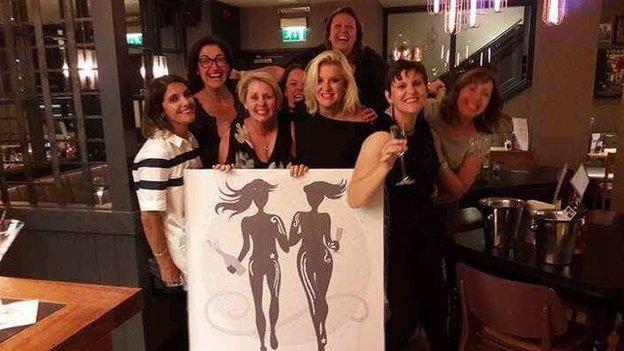 When Yvonne sat on her stairs, frightened about running for the first time in years, she realised she needed support and encouragement. So she set up the Facebook group, initially just for her and friends.
"They then shared with their friends and it snowballed. We have followers from all over the globe, from Japan, Australia, Dubai," she says.
"There's a wide range of women from all backgrounds, race and education."
One of the members is Julie Lewis from Harrogate, who was diagnosed with multiple sclerosis, a disease that attacks nerves in the brain and spinal cord, three years ago.
The 50-year-old used to be a keen runner before her diagnosis, having completed the London and Rome marathons.
"I got up one day to go for a run with my friend and I couldn't do it and then 24 hours later I couldn't use my right leg at all. I had two years without running," she says.
"I came to Sisters with Blisters as someone who had to learn to run again and they have been fantastic.
"Having someone to run with, to chat to you to take your mind off any pain, is amazing. I also love the social side of it and the way they accommodate any kind of ability. Even if you feel rubbish, it's fine. When they're running together, if someone stops they all stop."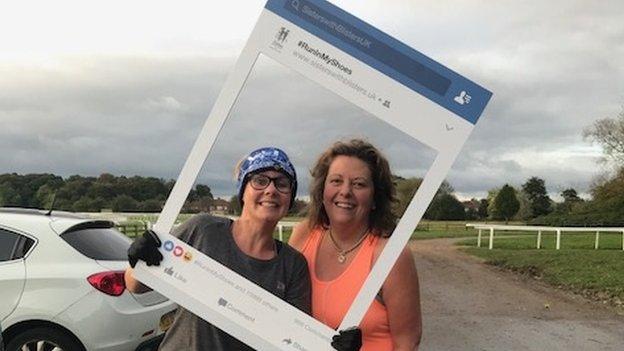 Another runner from the group, 47-year-old Rachael Heenan from Yorkshire, says it has given her the confidence and ability to take on new challenges.
"My motto is 'what's the worst that can happen?'"
When taking part in races, such as last year's Great North Run, the runners wear temporary tattoos to identify themselves as a fellow Sister with a Blister.
"When you see someone who you recognise it gives you that boost," says Yvonne.
"I am more proud of the group than I am of running the marathon," she adds.