Touch rugby - what are the health, fitness and social benefits for you playing?
By Sam Harris
BBC Get Inspired
Last updated on .From the section Get Inspired
The try line is in sight! A straight sprint between her and the defender! And she's over, what a score, all without a finger being laid on her!
That's the reality of touch rugby.
No rucks, no malls and no scrums but all the fitness benefits of the full-contact game, as well as a great place to socialise.
O2 Touch Rugby sessions are run right across country, with most local rugby clubs providing an opportunity to get involved.
The basics:
Six players on each team.

The attacking side has six chances to score before the ball is turned over to the defensive team.

The attacking side must pass the ball backwards and score by placing the ball over the try line.

To stop the attacking side, a defender has to touch the player with the ball. Once a touch has been made, the attacking team performs a 'roll ball' (placing the ball between their legs) and the entire defence must retreat five metres.

After six touches, or if the attacking team drops the ball at any point, the ball is turned over to the other team.
'It's a lot easier to play a game with your mates for an hour than run for an hour'
Touch rugby encourages socialising and keeping the game as up-beat as possible, but it's the improvements on fitness that really stand out.
"It's great way to improve your cardio vascular fitness, raising and lowering your heart rate and burning fat at a pace that suits you," says Neil Phillipson, a parent-turned coach at Blyth Rugby Football Club.
"Touch rugby is a fantastic way to keep fit or get fit, without really thinking about it. It's a lot easier to play a game with your mates for an hour than run for an hour."
The physical benefits of touch rugby are evident, statistics from a 45-minute O2 Touch session showed:
Average total distance covered:

3,500m

Maximum speed:

25km/h

Maximum heart rate:

195bpm

Average heart rate:

160bpm

Average calories burned:

500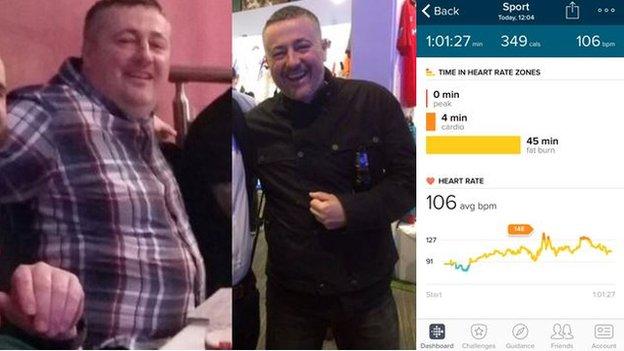 Paul Beavis from Blyth RFC is an example of the positive changes that touch rugby can have on everyday lives.
"Paul came to the club as a parent and was persuaded along with some other parents to give touch rugby a go," says 46-year-old coach Neil.
"Soon after, his wife and his sons all started playing each week.
"His fitness improved gradually and he was sparked into making some lifestyle changes which means he now engages in all sorts of sports and has adopted sustainable changes to his diet and exercise."
"It was the welcoming nature of the 'touchers' that got me to finally," admits Paul.
"My wife played also which was a shock to me. The fact that she felt comfortable to join in at a rugby club speaks volumes about how the emphasis was on fun and informality."
Paul lost five-and-a-half stone between May 2017 and June 2018 and added: "The benefits to my physical health from playing touch rugby have been countless.
"My confidence has massively increased, I sleep a lot better and feel better about my appearance and worry less about my long-term health."
'It creates more of a party atmosphere'
Touch rugby is built around a social environment and sessions are encouraged to be light hearted and fun.
"It's a fantastic way to improve your fitness levels with sessions geared more towards having a fun time," says Craig Stevens from Leicester-based Aylestone Athletic Rugby Football Club.
"Many touch centres encourage the use of playing music during their sessions which creates more of a party atmosphere which we always try to promote.
"We ensure that anyone who is new to touch feels welcome, and we work hard to ensure new players feel completely at ease and get the maximum enjoyment from their sessions."