From the front bench, to bench press: How MP Tom Watson lost seven stone in a year
By Sam Harris
BBC Get Inspired
Last updated on .From the section Get Inspired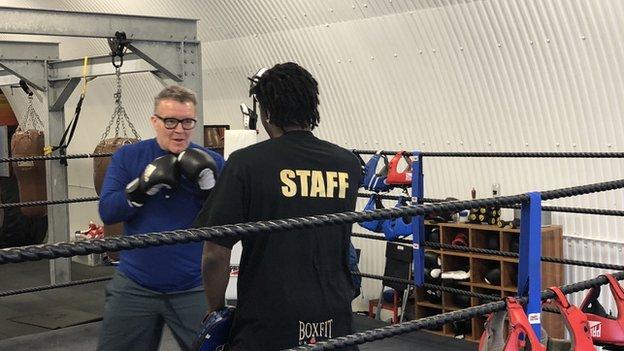 "Ashamed, guilty and embarrassed" - these are just some of the words Labour deputy leader Tom Watson used to describe himself when he hit 22 stone.
From that point, Tom - who suffers from type two diabetes - has dropped seven stone (44.5kg) after starting a new exercise regime last summer.
Combining healthy eating and taking part in sports such as cycling and boxing, he says his lifestyle change has even "reversed" his condition.
'The hardest thing was admitting the illness'
Tom was diagnosed with diabetes in late 2015 but he knew he was struggling with his health well before his GP confirmed the results.
"I'd run out of energy quickly and feel sleepy quite often," he says. "I was more listless and my body wasn't as strong anymore.
"The hardest thing, though, was admitting the illness to myself.
"A lot of men feel guilty and keep it to themselves - they're too embarrassed of their condition. I didn't want to admit it either."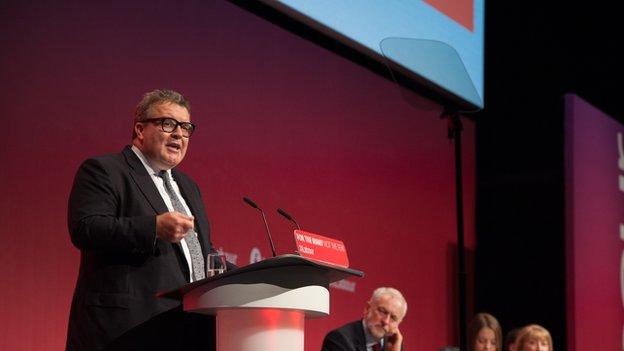 The start of the journey
When Tom hit 22 stone, he knew something had to change.
"At first it's all about the mental aspect of it," he says. "I learnt new ways to keep my stress down and how to get a good night's sleep. Even if it was five minutes of meditation a day, it all helps."
Out with the biscuits, in with the nuts
One of the most essential ingredients in the weight-loss recipe is nutrition. But how does someone go from all that fast food and beer to a strict, healthy regime?
Simple... get rid.
"To prepare for day one of my new life I cleaned out all the cupboards," says Tom. "No more biscuits, no more cakes and no more pasta.
"I restocked on nuts, which I could snack on instead, and bought lots of tuna and mackerel along with some healthier oils."
One step at a time
Tom struggled during the first few days of his new diet. He knew he had to combat his addiction to sugar but was soon getting withdrawal symptoms.
"This is where my exercise journey started really," he says. "After persevering and fighting these urges, I felt more energetic; I had more petrol in the tank.
"I started generally. I took the stairs instead of lifts and escalators - there are 76 steps to my office in Westminster and I felt like I needed an oxygen mask!
"I had to push myself to get over these little humiliations and work that little bit harder each day."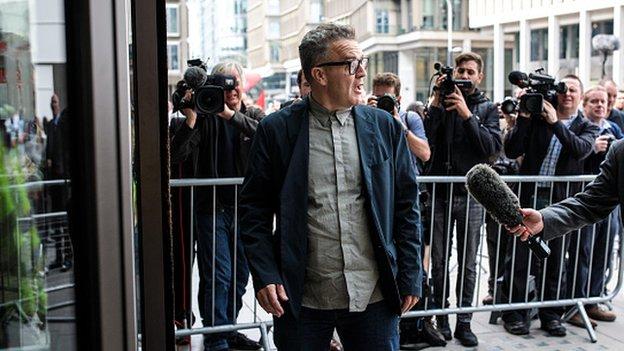 The fitness 'battle royale'
If you ever wondered what politicians did with their spare time, then here's one that might surprise you - gaming.
Now, I know what you're thinking, 'weight loss and gaming, they don't exactly go hand in hand do they?' But if you look at the goals in both then there is a crossover.
"I wanted to hit 10,000 steps a day. I love video games so I want to get to that very top score," he says.
"It was a struggle at first to get the final 3,000 steps in but after two to three weeks it got easier. I wanted to keep pushing myself to the next level."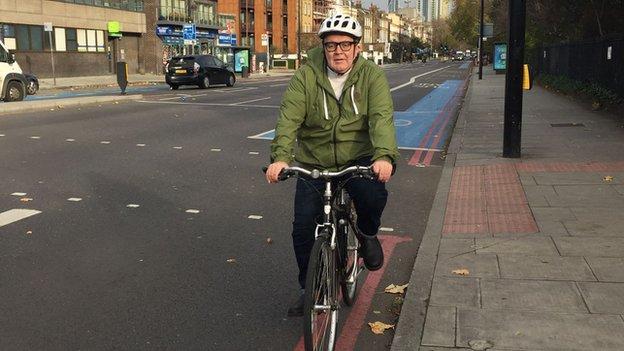 Tom's new passion for exercise led to him pulling out an old, cranky bike from the shed and, after treating it to some DIY, taking it out on the road.
"I took my first ride in London for about 20 years," he says.
"I remember riding over Lambeth bridge and getting to the incline - admittedly it's not that much of a climb - but I kept thinking, how am I getting over this?
"I knew I had to keep pushing that little harder so I forced myself over.
"Every time I hit a new weight-loss goal I bought new kit for my bike. I think it's the gamer in me again - I want to upgrade my fitness character and earn rewards by reaching 'higher levels'."
The 'next level' for Tom will be reaching a total weight loss of 100lbs, which he will reward himself for by buying a brand new bike.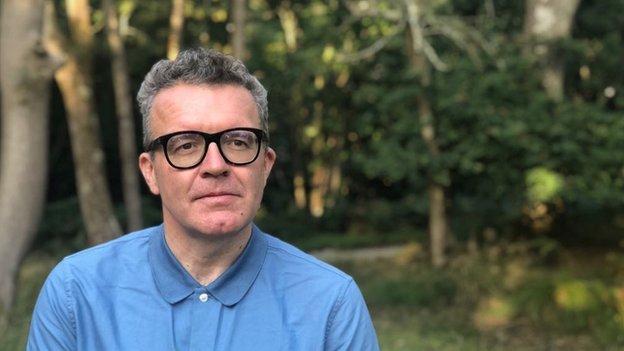 You may think the rough and tumble of politics would be enough sparring for one person, but Tom wanted to go one step further and step into the ring to take up boxing.
Still cycling and running, the man once nicknamed 'Tommy two dinners' was seeing significant changes in his health.
"Before I got involved I knew I needed to get more agile - I couldn't even bend over and touch my toes at first!
"Then when I felt more flexible I began the boxing. It was hard, but it was really fun and I liked the way my body felt after.
"I don't think I'll be stepping into the ring with Anthony Joshua anytime soon though."
'Tommy two dinners' makes a fantastic ring name though doesn't it..?
'You'll feel the gains quickly'
"For anyone who's feeling lonely with [diabetes] you might not be able to cure the condition, but you can significantly help yourself both mentally and physically with the symptoms," says Tom.
"You'll feel the gains quickly and find yourself beyond where you think your body can go.
"Thirteen months later I've lost 99lbs and no longer need medication.
"I feel like a cloud has been lifted from my brain, my memory is a lot better and I'm more compassionate.
"Maybe I'm even too chilled out for politics now!"