Wheelchair Dance Sport: From Dance novice to champion - living Strictly Come Dancing
Last updated on .From the section Get Inspired
Three years ago, Goz Ugochukwu had a go at Wheelchair Dancing as part of a year-long series of physical challenges with her work colleague Ross. She's had quite a journey since then...
Watching the last film I did for Get Inspired, I remembered I really wasn't looking forward to doing the dance challenge.
It reminded me of the really bad dance lessons I had at school and how embarrassing they were.
But I was impressed with the trainers and the routine they had for us. I did think that there was no way we could do that dance, in the timeframe we had.
As I practised I got more and more into learning the routine. I started to enjoy myself and was really surprised how quickly I learnt what I needed to do and had caught the dance bug.
So I persuaded Lloyd - a friend from work - to join me in some free lessons I had been offered. I thought it would be interesting and a bit different.
I didn't really take the classes seriously - it was just a bit of fun. And I found it hard - incorporating turns, spins and pushes in the wheelchair in time to the music.
The fact that the coaches were welcoming and the other dancers were fun to be around made me want to go back.
A complimentary pair
The coaches must have seen something in us, because within six months of starting classes they entered us into the British National Championships.
I had asked him because I knew he was a super-fan of Strictly Come Dancing and he used to compete as a disco dancer. I thought he would make a great partner.
As partners we are very different and I think a lot of people can't see how it works between us.
Out of the two of us, Lloyd is the most emotionally expressive on and off the floor. He'll be the one crying win or lose.
I am the quietly competitive one keeping it together.
International stage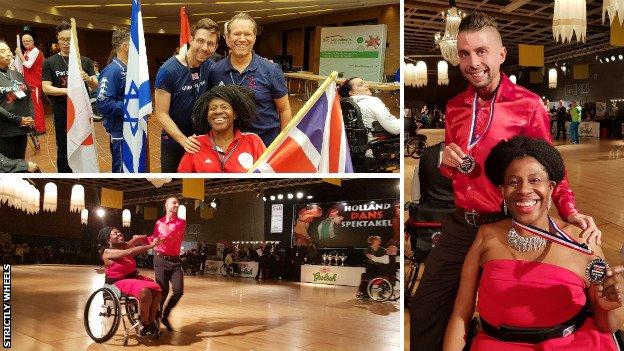 Over the past three years Lloyd and I have been competing nationally and internationally.
This year will be our busiest year so far, as we are entered in four competitions.
Whatever happens there this will be our last year as debutantes as we will be moving up to amateurs. That will mean learning more ballroom and Latin dances - eight all in all.
I would love to compete for my country at the Paralympics. But, if that doesn't happen, I would love to be good enough to go to the World Championships.
Give it a go!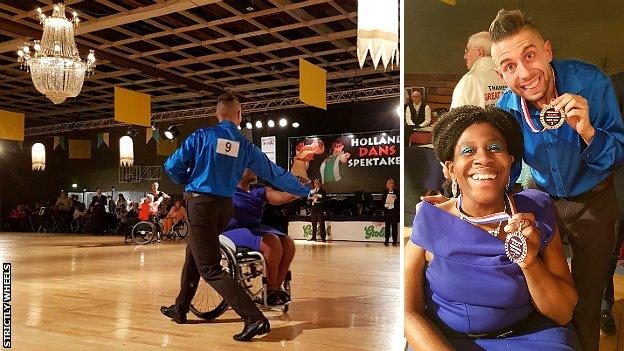 Para dancing is an amazing sport and when you see the top class athletes competing it just blows your mind away.
I can't believe I was even sceptical about the sport at the start.
I dance every week with Strictly Wheels in Manchester. It's a small club but we are growing.
Through dance I have learnt:
what it takes to compete

to have confidence in my ability

not to take myself too seriously

you can have fun in the most unusual places.
It would be great if more people took up the sport as it's a great way of keeping the body and mind active.
There are clubs across the country - if you go to Para Dance Sport website they can point you in the right direction.
Congratulations are due to Goz and Lloyd after they picked up a silver medal for their combi, a bronze for their freestyle and Goz won gold in the single women's category at the Para Dance Sport UK National Championships in Harrow.