UK women's skateboarding: The 'new punks' changing the face of the skating scene
By Sophie Brougham
BBC Get Inspired
From the section Get Inspired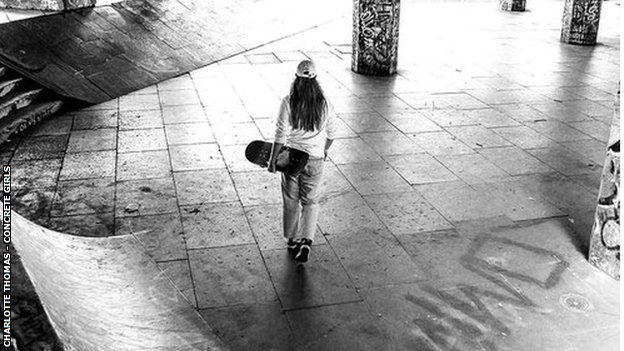 'Girls can't skate' was a familiar putdown for Nina Moran growing up as the only female skater in her New York neighbourhood.
Now, Nina is inspiring women across the world to pick up a board as the star of Skate Kitchen, a film about an all-female skate crew.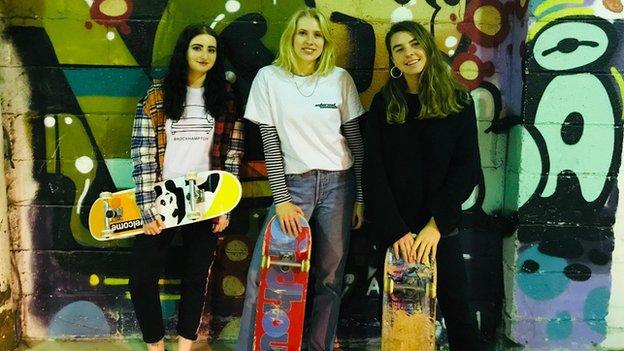 Long gone are the days of skateboarding being regarded as a baggy-jeaned boys' club.
Although there are only 23 pro-female skaters compared to 150+ male professionals, girls' skate nights are popping up all over the country, and they're changing the face of skating in the UK.
"Girls' nights make the sport feel more accessible," says Carissa Thorne.
"Lots of sports - especially extreme sports - are really male-dominated and it can be scary if you're going to be the only girl there. Girls' nights make it a little easier to take that first step."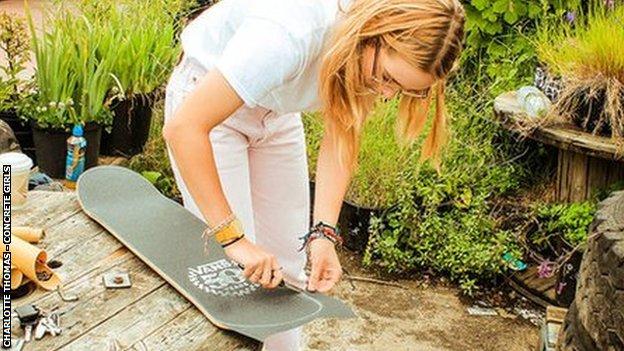 Girls' skate nights are growing - with events from Glasgow to London and Newcastle to Cardiff - and they are attracting a crowd that's not just there for the sport.
A typical night, like that at House of Vans in London, features live music, yoga sessions and film screenings, and the atmosphere is more reminiscent of a night out than a night of sport.
The 'new punks'
This blend of culture and sport is what makes skating appealing to people who typically don't think of themselves as 'sporty'.
Charlotte Thomas sees skating as a form of self-expression. Her book Concrete Girls documents the different personalities in the emerging female skate scene.
"Skating isn't just a sport, it's a lifestyle, it's about friendship and supporting each other, creativity. It's a little community," Charlotte says.
"We're the new punks. It's not just about skating but it's also a style and a fashion thing as well. Music and art go hand in hand with skating, it's a subculture."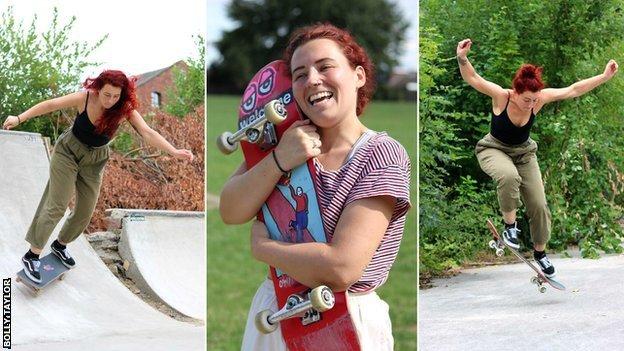 Social media has driven the increased visibility of women skating and Instagram is the perfect platform for skaters to forge communities.
Jess Melia founded Rollin' with the Girls - a skate crew in Leeds - after taking up the sport earlier this year.
Jess wants girls to think anything's possible and uses Instagram to arrange meet-ups and post clips of girls practising, often failing at tricks.
But it's not about being the best, she says, it's about learning: "So many girls are supporting and encouraging each other online.
"We've only been going about five months and we already have over 1,000 followers. That's because we show the learning process - not just people who are already good at skating."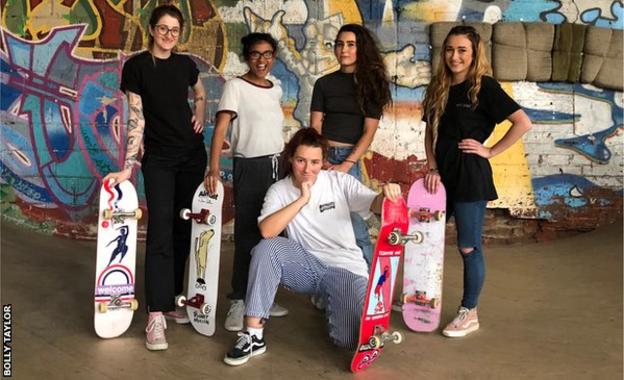 Jess Winter is one of the more established members of the Rollin' with the Girls crew, with 10 years of sharpening her shredding skills. Even with that experience, she stopped skateboarding when she moved to Leeds because she couldn't find other girls to skate with. Now she sees Rollin' with the Girls as family.
"I've never known another community like it," she says.
"Girls skateboarding is still quite underground, so a lot of girls are intimidated. But when you're in a crew you know that people have got your back.
"It's a bit of an escape from being trapped on social media or working."
Get out of your comfort zone
That sense of community and self-expression, as well as being able to nail a trick, is the main appeal of the sport, according to Jess M:
"Skating is hard and it may take days, weeks or months to a land one single trick - in a world of instant gratification I think it's really humbling to learn something new like that.
"It's not just about physically pushing yourself to land your first kickflip, but pushing yourself mentally to do something that is so scary and so out of your comfort zone.
"The reward in how proud you are of yourself is amazing.''


Are you inspired to try skateboarding? Or maybe you are an enthusiast already? Get in touch and tell us your experience of the activity by tweeting us at @bbcgetinspired, visiting us on Facebook or email us at getinspired@bbc.co.uk.