Green Gym: How free volunteering sessions outdoors changed Alex's life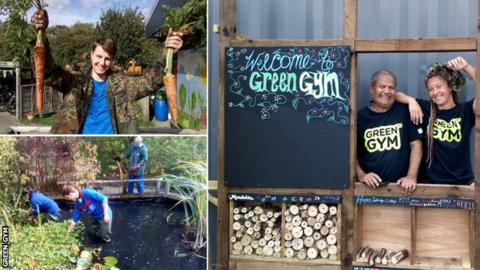 Alex Mason, 22, has been attending Green Gym for the past four months. Here he explains how it has helped him re-think his career and improve his CV as well as his physical and mental health...
I joined my local Green Gym at Skelton Grange in Leeds back in August and I can honestly say that it has been a massive turning point in my life.
I had decided to drop out of University and had been dealing with a couple of mental health issues.
The Skelton Grange Green Gym was recommended to me and I went along on a Monday morning.
Green Gyms were created by Dr William Bird, a GP in Sonning Common, Oxfordshire, who realised that working in groups, outdoors in parks, gardens and open spaces, has huge health benefits.
He linked up with environmental charity The Conservation Volunteers (TCV) and there are now around 100 Green Gyms around the country.
Warm welcome - and work!
The team at Skelton Grange were really welcoming and, after a quick warm-up, I was out harvesting veg and planting seeds.
Pretty soon they had me felling trees, processing the wood and making paths.
It is pretty intense physical stuff. I work up a sweat every day I go there.
Unlike many sports, you don't need to splash out loads of cash on any particular kit before you can get started.
The centre provides all the tools and safety equipment you might need and there is always someone on hand to make sure everyone knows what they are doing.
We'll all have lunch together, sometimes making up a stew from the all vegetables we have grown.
There aren't any leagues or competitions at Green Gyms but there are occasional trophies.
Caroline Crossley, the operations leader who runs Skelton Grange Environment Centre, and the original Green Gym team from Sonning Common were recently given a TCV Hero Award at a reception at the Barbican in London.
Big benefits
The greatest benefit I've got from joining a Green Gym is confidence building.
I had been finding it really difficult to meet people and my social confidence had been at absolute zero.
I've managed to get a part-time job at a bar in Leeds now and that is something I simply wouldn't have done before.
Green Gyms have changed my life and I would recommend it to anyone.