Masters 2011: Fire forces Lee Westwood jet to land
Last updated on .From the section Golf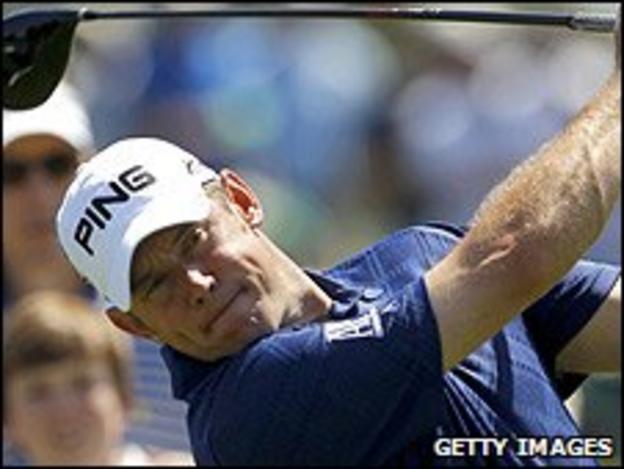 World number two Lee Westwood's private jet made an emergency landing as he flew to the Masters at Augusta after a fire broke out in the cockpit.
Westwood, who was travelling from the Houston Open with Ryder Cup team-mate Ross Fisher, said it was "a bit scary".
"It never looks good when you can smell smoke and the pilots have put masks on," added the 2010 Masters runner-up.
Earlier he had asked on Twitter: "Do the fire engines normally follow you down the runway?"
He continued: "Only when there's smoke in the cabin I guess!!! They're not here to put my putter out! That's not on fire! Gone a bit quiet on here!!!"
On arrival at Augusta National on Monday the Englishman stated: "The smoke was coming from the cockpit and they told us later they couldn't drop our masks because they feed oxygen into the cabin and if there was a fire it would have fanned the flames.
"The plane came down in a bit of a nose dive because you obviously have to get down as quick as you can.
"There had been a small fire somewhere in the instruments and we had the three fire tenders chasing us down the runaway, but I think that's just a precaution."
Westwood's manager Andrew "Chubby" Chandler told BBC Sport it had "definitely got a bit cloudy in the cabin.
"There were a few quizzical looks, then we turned round and saw the pilots had full gasmasks on.
"We came down fairly quickly and it was the usual story of two or three vans and fire engines all standing down the runway."