Ian Poulter rules Tiger Woods out of Masters contention
Last updated on .From the section Golf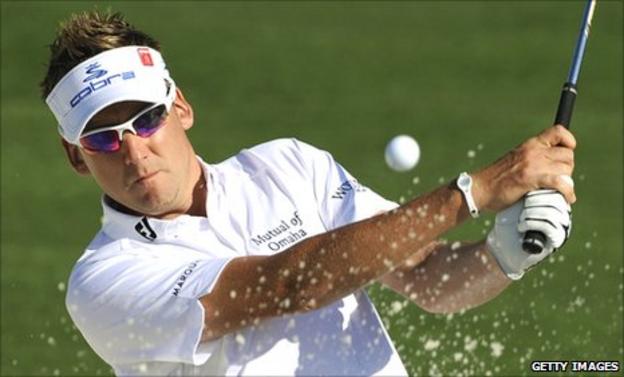 England's Ian Poulter has discounted four-time Masters winner Tiger Woods's chances of challenging at Augusta National this week.
Former world number one Woods has not won a tournament in 16 months but is second favourite behind Phil Mickelson.
However, Poulter, seeking his maiden major, said: "I don't think he'll finish in the top five."
But Woods hit back at the prediction, saying sarcastically: "Well, Poulter is always right, isn't he?"
The American added: "My whole idea is to try to win the golf tournament and that's what I'm trying to do.
"My whole idea is to prepare. I've prepared all year to peak four times a year and that has not changed, and that's what I'm trying to do."
On whether he felt ready to take a fifth green jacket Woods just nodded and replied: "Mm-hmm."
And when asked what part of his game was ready he smiled and said "everything".
Woods' difficulties after revelations about his personal life in December 2009, his subsequent four-month break from the game and his inability to rediscover the form which had earned him 14 majors, are all well-documented.
Despite dropping to seventh in the world, Woods's pedigree at the Masters - which he last won in 2005 - means the 35-year-old stills commands short odds on winning his fifth Green Jacket.
But Poulter, pointing to his rival's form at last month's WGC-Cadillac Championship, where he came 10th, believes the Augusta National course is too unforgiving to spark a Woods revival.
"The shots he [Woods] was hitting at Doral, they were very inconsistent," added Poulter. "You can't afford to hit shots like that round this golf course and get away with it."
Poulter did, however, qualify his prediction with a note of caution. "You can never rule Tiger out, can you? He has such an incredible record round this golf course," he said.
"He's got one of the best short games in the world - that's not going to disappear - and when he gets himself into a position where he's close he generally holes putts at the right time.
"He hasn't done it for a while, but I think that if he starts to hole the putts at the right time you are going to see the Tiger of old and that's dangerous. But I don't see it this week myself."
Poulter raised eyebrows three years ago when he declared: "I haven't played to my full potential and when that happens it will be just me and Tiger."
Now ranked 16th in the world, the Hitchin-born professional's rise to the very top has since failed to materialise, with Poulter notably failing to replicate his brilliant Ryder Cup form in stroke play.
The 35-year-old has won seven points in the last two Ryder Cups - at Valhalla in 2008 he took four from a possible five for Europe in their 16½-11½ loss to the United States, while at Celtic Manor in October he was again a star performer for Europe, claiming three points out of four as Colin Montgomerie's side re-claimed the trophy with a 14½-13½ win.
Poulter has tasted solo success in between these two events, winning the World Match Play Championship in February 2010 and the Hong Kong Open nine months later.
But he has not had a top-10 finish in his last six starts and at last year's Masters he was joint halfway leader with compatriot Lee Westwood before rounds of 74 and 73 resulted in a 10th-place finish.
"I'd like to find out why I perform so well in the Ryder Cup and I don't bring it out in stroke play as often as I'd like," admitted Poulter.
"I've definitely got to have a think about my mindset and try to get pumped up.
"In Ryder Cup week you don't need to try for it - it's just there in you. On the first green with 72 holes to play you don't fist-pump when you hole from 10 feet for birdie but perhaps I should get a bit more excited inside.
"I do it occasionally, so you feel you should be able to do it every week."
After practising at Augusta this week alongside fellow Europeans Justin Rose and Graeme McDowell, Poulter remains confident he can be the man to complete the first clean-sweep of the majors by European Tour golfers since 1994.
This follows Northern Irishman McDowell's victory in the US Open at Pebble Beach in June last year, South African Louis Oosthuizen winning the Open a month later and Martin Kaymer of Germany claiming the PGA Championship in August.
"I've done enough homework and I'm ready to go now," claimed Poulter. "Being in the lead after two rounds last year was great. Knowing you can play the golf course is always a plus.
"Not chasing is key - you can't do that on this course and I did after [Phil] Mickelson and Lee [Westwood] got out in front.
"When you go for some of these pins you can make birdies but you can also make mistakes. The attention on me now is not the same but my expectations are the same if not more."
Despite an overnight storm the weather is set to be fair in Georgia and that presents problems for asthmatic Poulter, who recently discovered he was allergic to many of the grasses and trees he comes into contact with on courses.
"I had an injection yesterday. I don't even know what it was - just something to help me out - but my eyes are still itchy," he added.