Masters 2011: Lee Westwood downplays plane incident
Last updated on .From the section Golf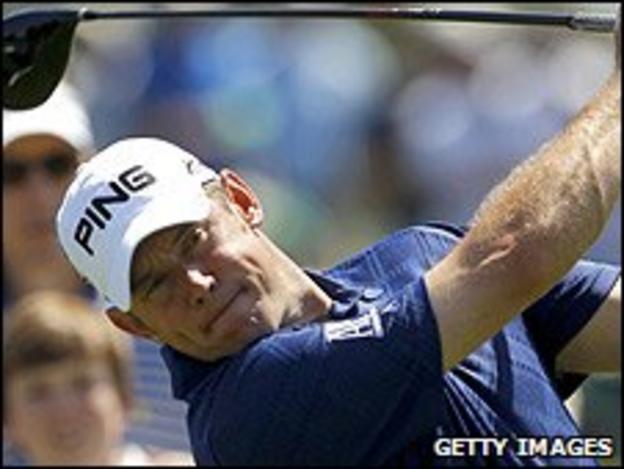 Lee Westwood has played down the incident which resulted in his private jet having to make an emergency landing en route to Augusta for the Masters.
Smoke entered the cabin after a fire broke out in the cockpit as Westwood and Ryder Cup team-mate Ross Fisher travelled from the Houston Open.
"It was a bit nervy for three or four minutes but not as drama filled as some would make out," said the 37-year-old.
"On the next flight I had a very large double vodka."
Westwood said that the pilots had put on their oxygen masks, turned the jet around and headed back to Houston.
After finally making it to Augusta the world number two, runner-up to Phil Mickelson last year, spent much of Sunday repairing his putting stroke under the guidance of his father.
"It wasn't very good last week but I spent an hour and a half on the putting green with my dad and sorted quite a few things out," added Westwood.
"It feels and looks a lot better, as well. I'm getting quite confident now."
The Worksop player, who briefly held the world number one spot earlier this year, said the key to success at the Masters was a good short game.
"All of the past champions have been great chippers and putters," said Westwood, who is looking to win his first major having been a runner-up on three occasions.
He has been grouped with world number one and Ryder Cup team-mate Martin Kaymer and 10th-ranked American Matt Kuchar in the first round, which begins on Thursday.
In each of the three Masters he has played Kaymer has missed the halfway cut, and in a bid to change his Augusta fortunes the German has been trying to draw the ball more.
"My normal shape is left-to-right," said Kaymer. "If I could play the other way around I can fade it all day. [Phil] Mickelson can and that helps - obviously the draw is more difficult than the fade.
"I needed to change something. I've also prepared a little different than the last two years. I took two weeks off.
"You can play well if you hit the ball straight. You don't need to draw the ball, but I think my problem was always that I was not sharp enough in my short game."
Kaymer, meanwhile, believes the pitching, chipping and putting expertise of Luke Donald make the Englishman the favourite to don the Green Jacket come the end of the tournament.
"His short game is unbelievable," Kaymer said of the man who beat him in the final of February's World Match Play in Arizona.
"Obviously he's not the longest, but he's very straight, so I think he has the best chances.
"I asked him how he became so good in short game, but he didn't answer. He said 'I don't know'."