Masters 2011: Graeme McDowell opts out of par-three event
Last updated on .From the section Golf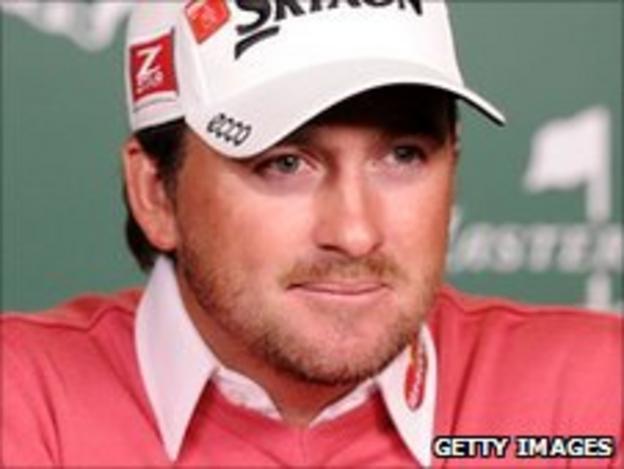 Graeme McDowell will miss the Masters par-three event to get in more practice and also have the chance to watch Chelsea's clash with Manchester United.
"I want to have a good practice session and play a really good back nine holes, then get in and put my feet up and watch the match," said McDowell.
"United don't get to play Chelsea too often in the Champions League," said United fan McDowell.
The US Open champion plays alongside Tiger Woods on Thursday and Friday.
"Unfortunately the par three does not fit my schedule this time around. I'm disappointed, but hopefully there will by more Masters tournaments."
McDowell's US Open victory last June guarantees him at least four more.
The Northern Irishman played with Woods in the third round two years ago and was outscored 70-73, but he was a very different player then and Woods does not have the same aura any more.
It was only last December that Woods lost a four-shot lead on the final day of the Chevron World Challenge in California and was beaten in a play-off by McDowell.
"I feel like I've played with him enough now to where it's pretty normal once you get used to the whole buzz that surrounds him, especially inside the ropes," added world number five McDowell.
"I've got to go and play my own game and let him play his game.
"I would have been intimidated a couple of years ago, but nowadays it's reasonably normal. I was expecting to get a draw somewhere along those lines this week."
After struggling badly at Bay Hill two weeks ago, when he missed the cut after an opening 80, McDowell has been pleased with his form in practice at Augusta.
"I've dreamt of putting the green jacket on my back and I'm definitely very driven to do the job.
"The more often I come here I feel like my awareness and my knowledge of this golf course continues to increase.
"It's probably as good as I felt this week on the course, really knowing the greens, knowing where I should be hitting it.
"I certainly don't feel under any added pressure to go win another major, but I feel like I've got the confidence and belief now.
"I've never really been blessed with a talent of a Rory McIlroy or a Tiger Woods or a Sergio Garcia or somebody like that.
"I've always had to work hard at my game. Things always came a little more difficult for me than other guys."
However, victory this week could even move McDowell to the top of the world rankings.
Padraig Harrington is aiming for a hat-trick of titles in the Masters par-three competition after winning in 2003 and 2004 - although none of the previous winners have gone on to claim the big prize.